CF Benchmarks Recap - Issue 44
Monochrome Asset Management is a key contender to list Australia's first crypto ETP, more so, after partnering with CF Benchmarks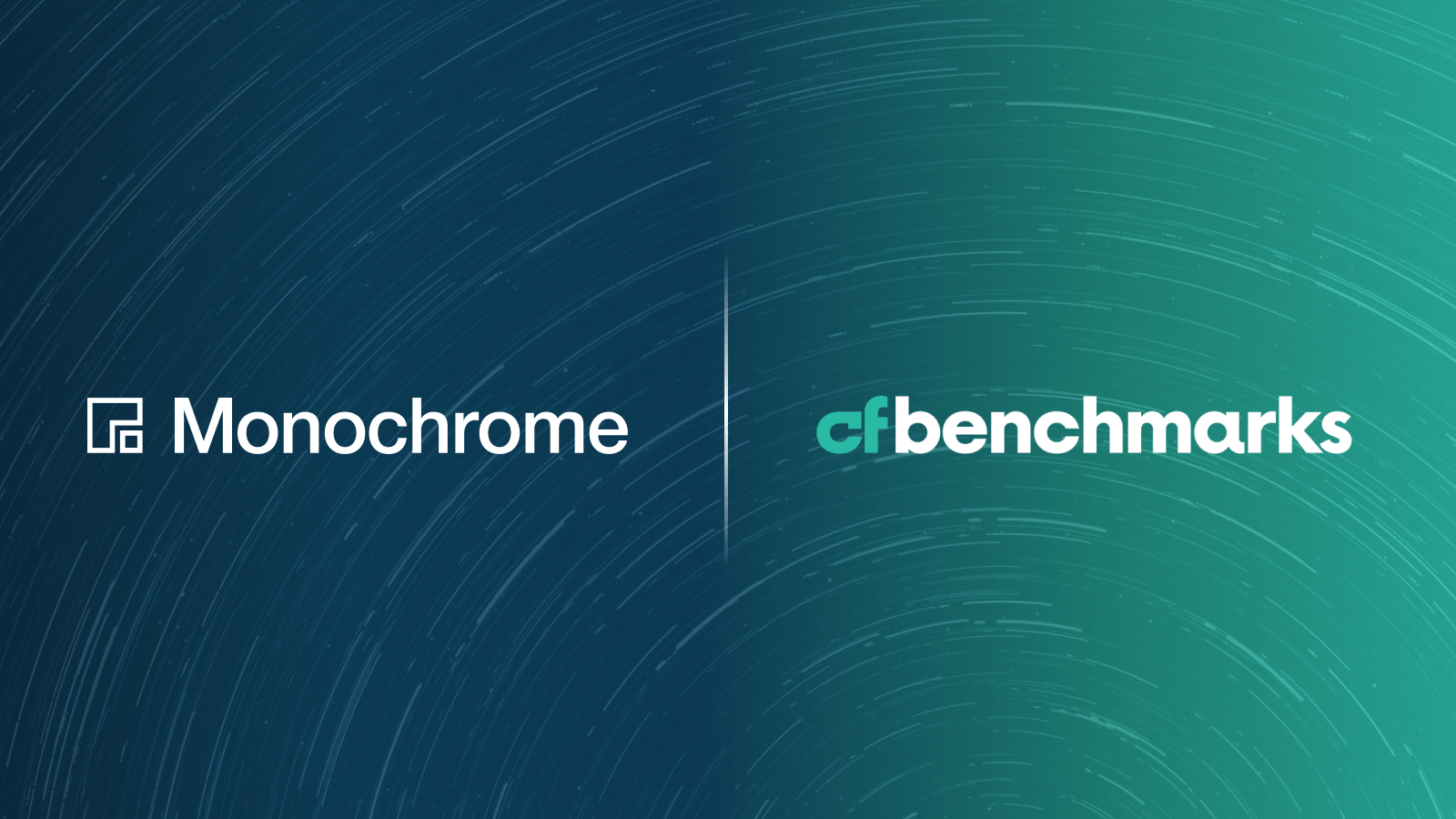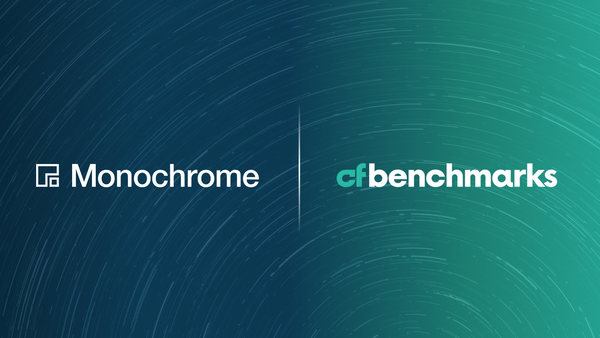 WisdomTree CF Crypto Family tracks new basket strategies

Monochrome partners with CFB as Aussie ETF race heats up

Why B2C2's BTC NDF will be go-to for hands-off solutions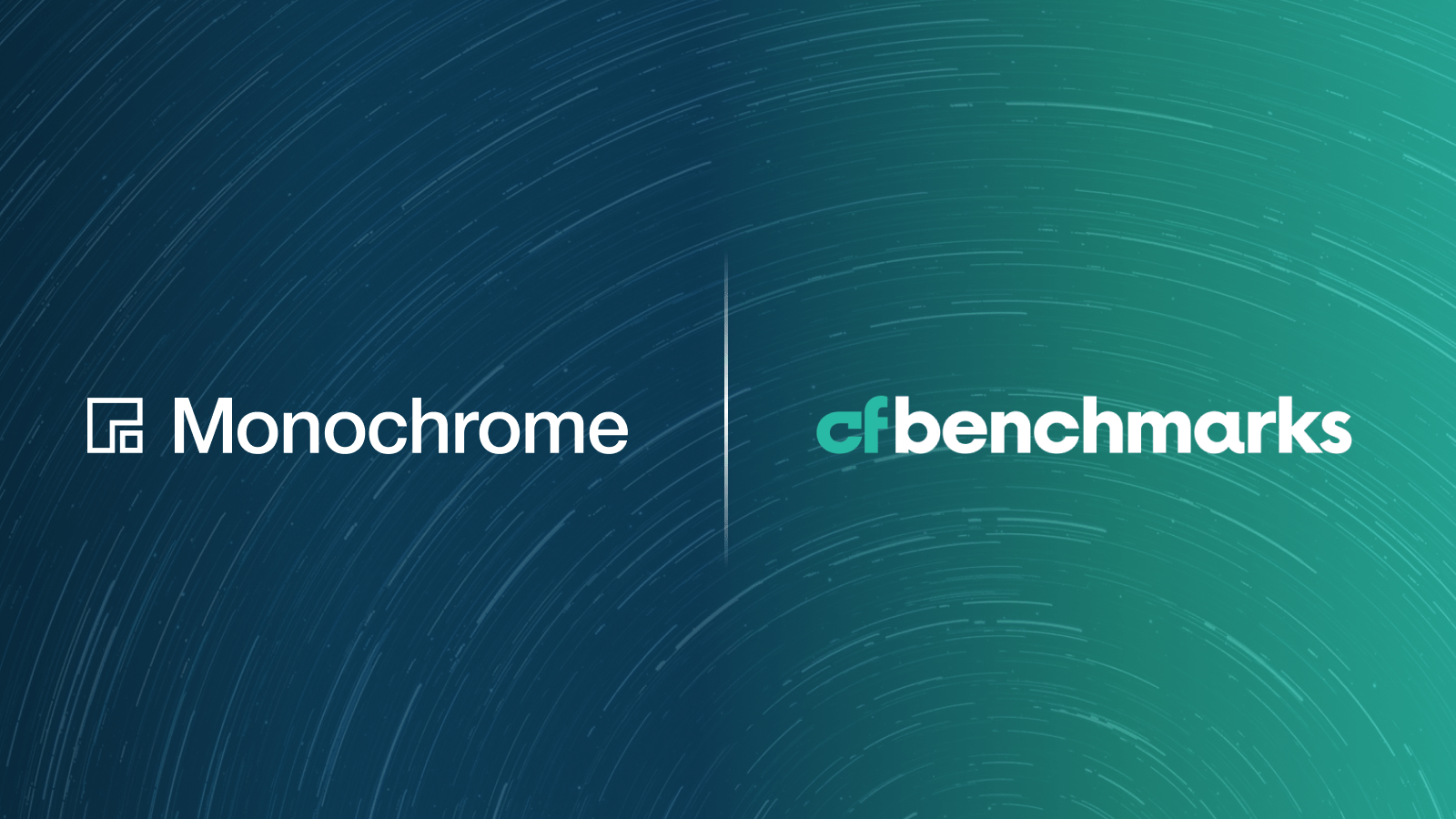 Intermission
The institutional space barely seems perturbed by the bookend to 2021 price volatility; unsurprising, with adoption not looking particularly price sensitive this year. So, despite CME CF Bitcoin Real Time Index (BRTI) sliding to as low as $42,416.54 at one point (timestamp: 04/12/2021, 05:27:59)—a 38.5% drawdown—it's still a stupendous 2021 in cryptoassets. (Large-cap YTD performance summarised below.) It's no stretch to say CF Benchmarks shared several inflection points: B2C2's BTC/USD NDF execution; ASIC's CFB-based guidelines; ProShares' BTC futures ETF, Evolve's string of Canadian firsts; ProFunds' BTC mutual fund; CME ETH Futures, Nasdaq Crypto Index; all against the backdrop of the 42 CFB-branded benchmarks we launched this year. And there's been no let up. Our latest highlights include the WisdomTree CF Crypto Index Family and a partnership with Monochrome Asset Management, eyeing Australia's first crypto ETP. (See para. 3). Meanwhile, Q3'21 fundraising totalled c.$8.2bn, with $1.8bn divided between Web 3.0 and NFT and $1bn for blockchain gaming alone. Likewise, SAND gained 82% in a month, whilst MANA 'only' managed +35%. Both later faced the bonfire of volatility. Elsewhere, LUNA, not-so-stable native token of stablecoin platform Terra, reflects resilient DeFi 2.0 risk appetite, after rocketing 58% on the week. Imagine 2022.
Meet the WisdomTree CF Crypto Index Family
WisdomTree's busy crypto roadmap has spun out more verticals. Three exchange traded basket strategies listed on Deutsche Börse and SIX late last month: WisdomTree Crypto Market (BLOC), Wisdomtree Crypto Altcoins (WALT) and WisdomTree Crypto Mega Cap Equal Weight (MEGA), with MEGA also floated on Euronext days later. The group's goal of providing "simple, secure and cost-efficient ways to access crypto assets" was underpinned by inauguration of the WisdomTree CF Crypto Index Family (See 'Featured benchmarks' for more details). RWM WisdomTree Crypto Index followed soon after, catering for iceberg-like RIA client demand. Meanwhile, the group became the highest-profile U.S. spot BTC ETF applicant to receive an official rejection, as widely expected.
Australia has ETP listing contender in Monochrome
Monochrome Asset Management is a key contender to list Australia's first crypto ETP, more so, after partnering with CF Benchmarks "to ensure the integrity of underlying assets contained within Monochrome product offerings". The firm aims to utilise our flagship BRR to strike daily NAV, following a well-established path, implying demonstrable regulatory admissibility. That's on top of ASIC's clear signals that CFB's benchmark methodology meets approvable selection principles…given that the regulator's guidelines clearly echo our policies. The race to launch an Aussie crypto ETF is widely expected to reach its culmination in early 2022, amid palpable demand.
The Returns: ETH tops Ultra Cap 5 constituents YTD
White heat from resurgent ERC-20-dominated DeFi, despite quickening platform diversification (cf. DOT, ADA), is among the keys to Ether's year-to-date resilience as shown, normalised, below. The burning of as much as 1 million ETH since EIP-1559 may also feature. (Note ADA joined the portfolio index in late-July). CF Cryptocurrency Ultra Cap 5 details here.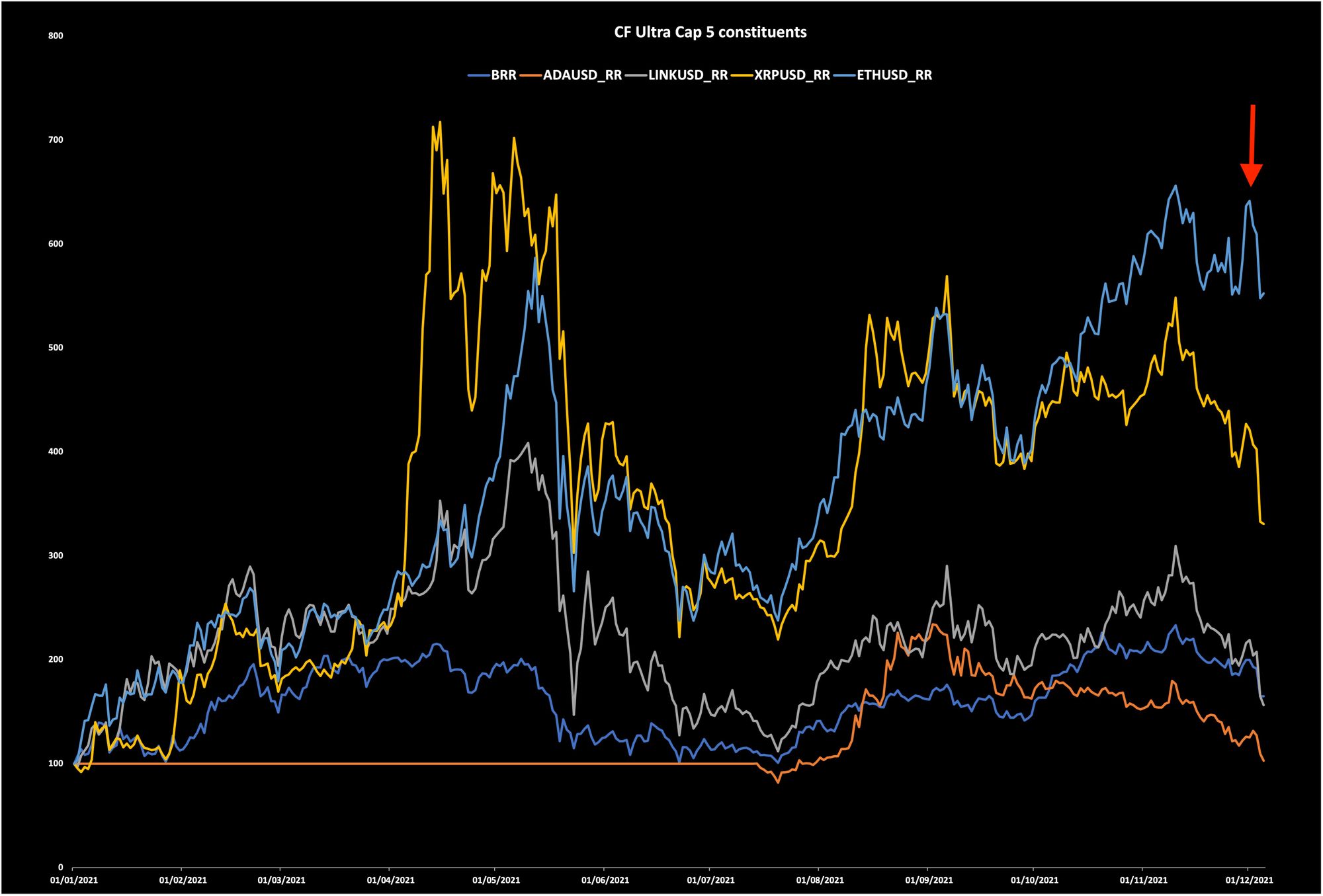 Featured benchmarks: WisdomTree CF Crypto Index Family, BRR
WisdomTree, CF Benchmarks launch WisdomTree CF Crypto Index Family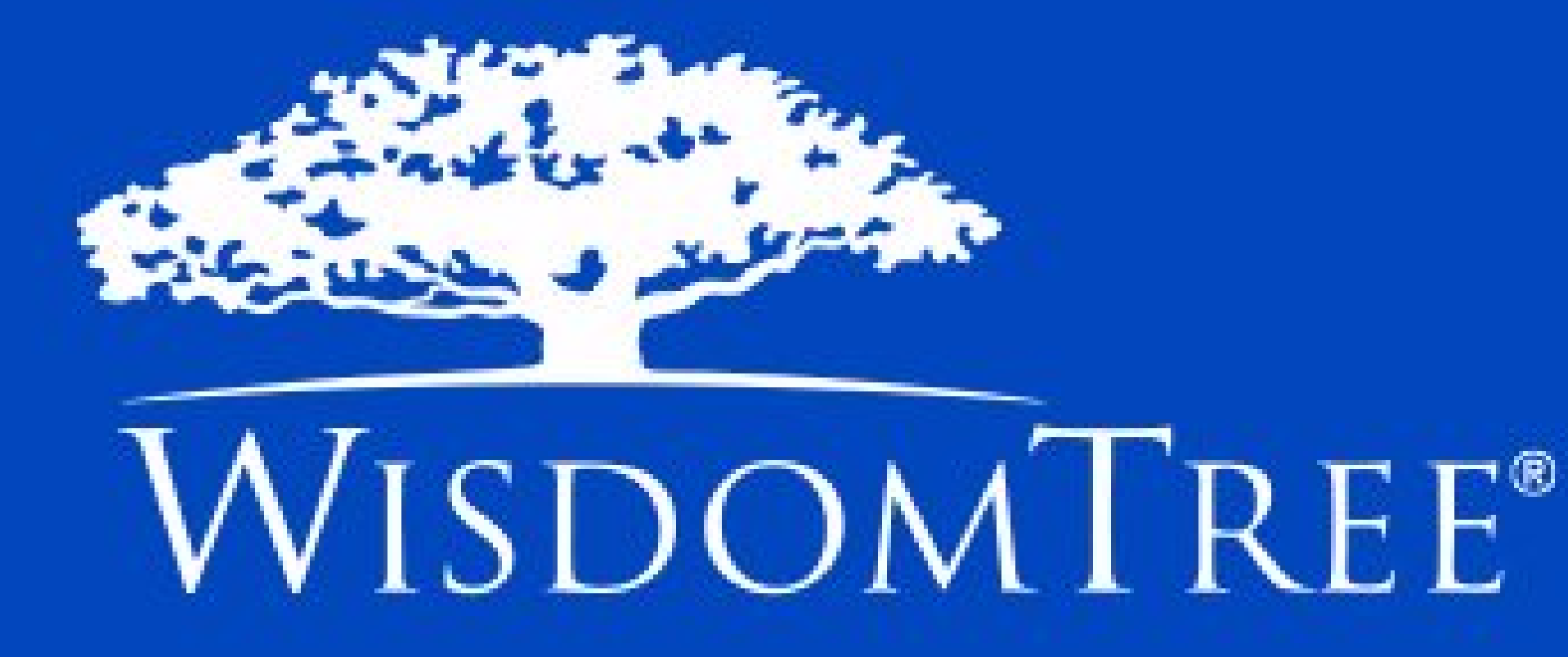 WisdomTree and CF Benchmarks launch six benchmark indices to coincide with WisdomTree's new crypto baskets
CF Benchmarks is excited to announce a set of new multi-asset crypto indices in partnership with WisdomTree to coincide with the listing of three exchange traded products (ETPs) by the asset manager on the Deutsche Börse and SIX exchanges.
Each ETP will be represented by two new benchmark indices calculated using CF Benchmark's regulated Benchmark Methodology: a Real Time Index, published every second, 24 hours a day, seven days a week; and a Settlement Price, published once a day, every day, at 16:00 London Time.
Post continues on our website.
VIDEO: Headwinds and opportunities
In his latest Nasdaq Trade Talks slot, CFB CEO Sui Chung highlighted takeaways from Kraken Intelligence's Dec 2021 report, plus major macro factors and how they impact top cryptoassets like ProShares' BITO ETF. Click here to watch.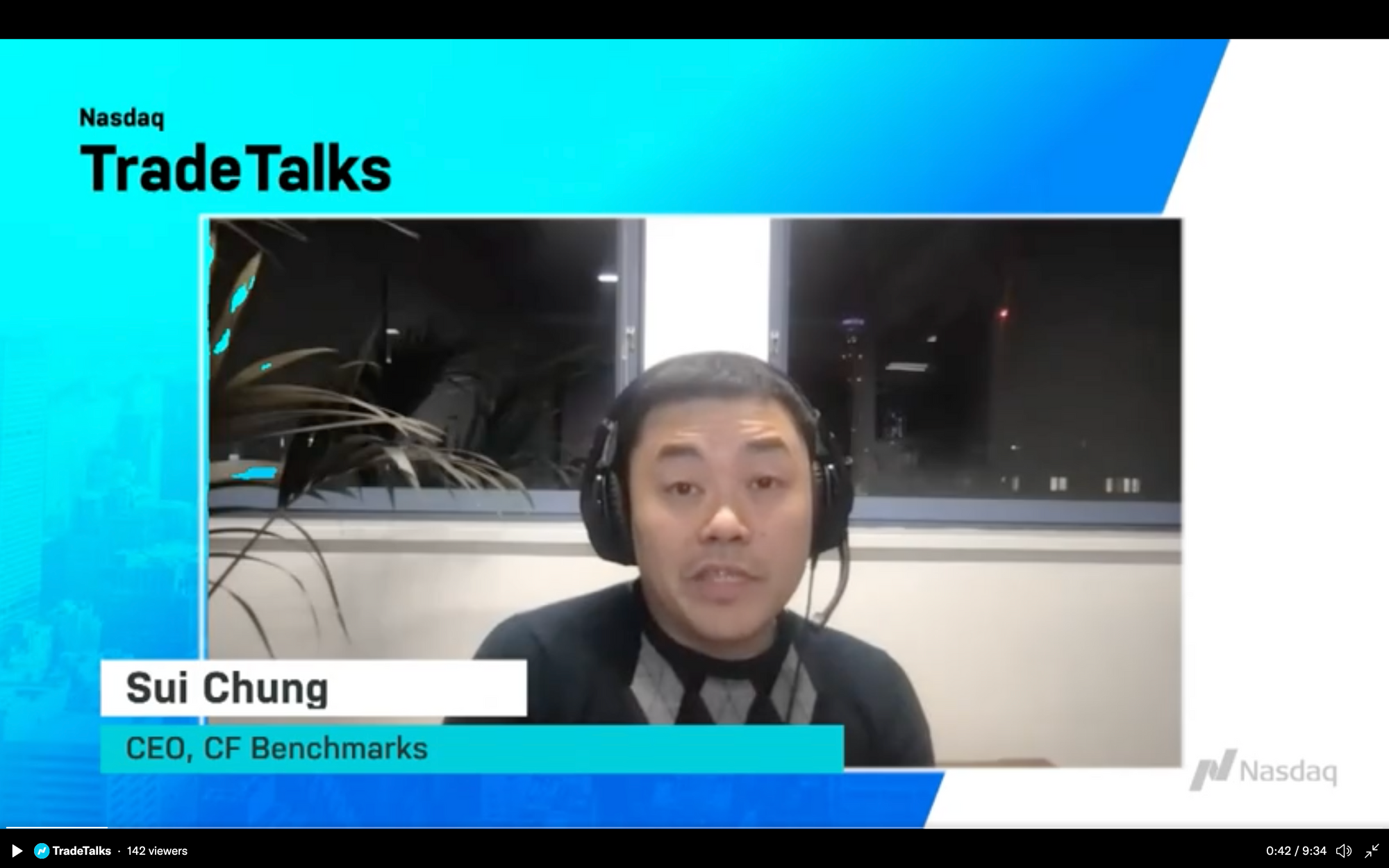 B2C2's BTC NDF set to be institutional first choice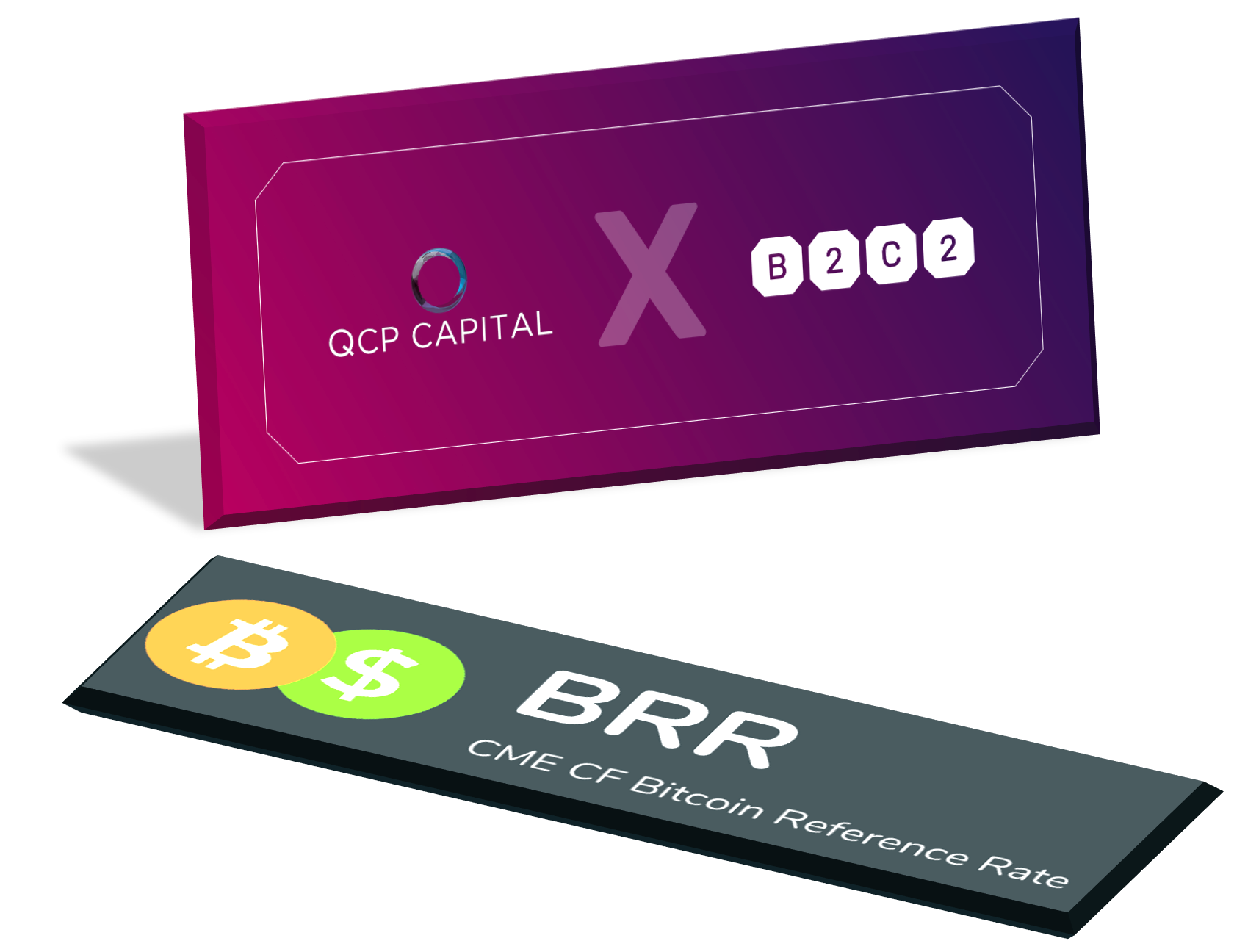 *A combination of crypto demand and crypto caution make NDFs with CME CF BRR as reference price, like B2C2's, a logical choice for institutions *
B2C2's execution of the first confirmed non-deliverable forward (NDF) last month, with Bitcoin as the underlying asset, epitomises a key use case of the CME CF Bitcoin Reference Rate (BRR) Liquidity Complex, as outlined in our whitepaper 'How the CME CF BRR Liquidity Complex can be utilised for the creation and management of structured products'.
The NDF, which integrated BRR as its reference rate, is now among 2021's crypto watershed moments, and essentially marks the opening of a new derivative class, in which increasing trading volume is now likely to be seen.
As such, an overview of the benefits of crypto NDF transactions, from our unique perspective as a Benchmark Administrator, is in order.
It's what you think it is
First, for the avoidance of doubt, it's worth confirming that a Bitcoin NDF is identical in principle to a fiat currency NDF.
Just like in traditional currency markets, in situations when it is undesirable or prohibited for a forward transaction…
(Read on here.)
The information contained within is for educational and informational purposes ONLY. It is not intended nor should it be considered an invitation or inducement to buy or sell any of the underlying instruments cited including but not limited to cryptoassets, financial instruments or any instruments that reference any index provided by CF Benchmarks Ltd. This communication is not intended to persuade or incite you to buy or sell security or securities noted within. Any commentary provided is the opinion of the author and should not be considered a personalised recommendation. Please contact your financial adviser or professional before making an investment decision.