CF Benchmarks Recap - Issue 39
With multi-asset ETFs looking increasingly like the next logical frontier of accessibility, CF Benchmarks-administered Nasdaq Crypto Index (NCI) was also named in a new filing.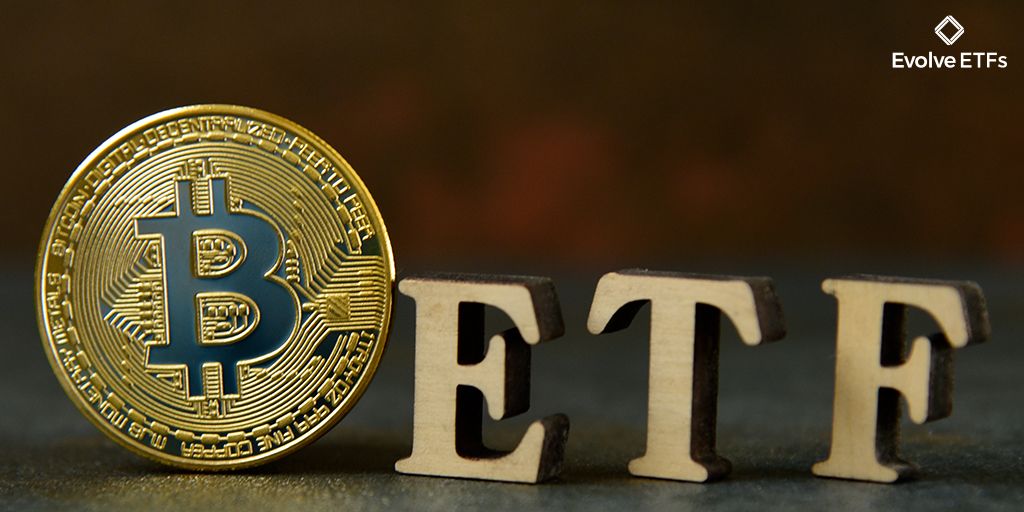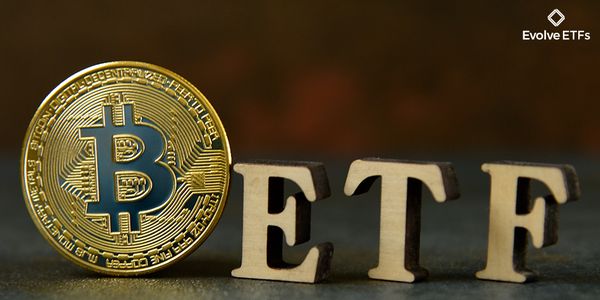 Evolve files for third CF Benchmarks-powered ETF

QR Asset announces Latin America's first listed Ether fund

Victory Capital, Kryptoin add Nasdaq Crypto, ETH to SEC's list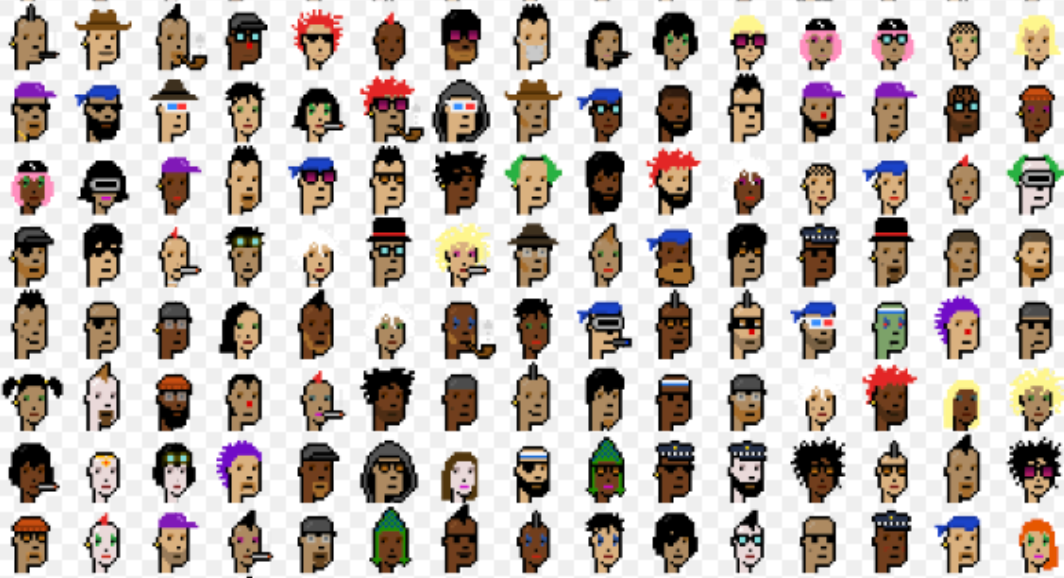 Into the Metaverse
The pace of institutional adoption palpably stepped up a gear after SEC chair Gensler said a few weeks ago: "I look forward" to BTC ETF filings under the 1940 Investment Company Act, "particularly if those are limited to…CME-traded Bitcoin futures". As noted, asset management giants wasted little time. Fresh 'guidance' also coincided with a spate of filings and launches powered by our benchmarks. (See below). Meanwhile, at the time of writing, markets are staging another attempt to reach escape velocity following three months of shaky traction. Bitcoin briefly recaptured $50k for the first time since mid-May. Live benchmark BRTI marked $50,509.72 at 10:18 UTC on August 23. ETHUSD_RTI registered $3,378.93 at 14:16 UTC. Large caps tell even less of the whole story than usual though, with ETH volumes outpacing BTC's in H1. And in terms of price growth, both were eclipsed by SOLUSD, the token of scalable layer 1 network Solana. It notched ~$114 on August 18, vs. ~$20 a month before. Scalability and sustainability also propelled CF Cardano-Dollar Settlement Price into our Ultra Cap 5 portfolio for the first time, post monthly rebalancing. (See 'The Returns'). Indeed, it's still a year when VISA can spend $150,000 on an NFT and barely be newsworthy.
QR Asset, Evolve prep ETF rounds 2 and 3
QR Asset will soon complete a Latin-American double header by listing the region's first Ether ETF on Brazil's B3 Exchange, after launching the first LatAm BTC ETF just two months ago. Like QBTC11, QETH11's NAV calculation will be CFB-powered, this time by CME CF Ether Reference Rate. Elsewhere in the Americas, Evolve ETFs is set to float its third crypto fund on Canada's TSX exchange. In another first, it's a portfolio—Evolve Cryptocurrencies ETF (ticker: ETC). It will initially invest in Evolve's BTC (EBIT) and Ether (ETHR) ETFs, which strike NAVs to CFB's BRR and ETHUSD_RR. EBIT and ETHR will be weighted according to our free-float methodology, adding another layer of integrity and accuracy to the robustness deriving from ETC's basis in BRR and ETHUSD_RR.
Victory Capital eyes public Nasdaq Crypto Index fund
With multi-asset ETFs looking increasingly like the next logical frontier of accessibility, CF Benchmarks-administered Nasdaq Crypto Index (NCI) was also named in a new filing. Victory Capital Holdings, the $162bn-AuM firm that announced a clutch of NCI-based assets in June, has opened Victory Hashdex Nasdaq Crypto Index Fund for private investors, simultaneously filing to offer it as an ETF. It's the first vehicle driven by Victory's partnership with Hashdex, which itself listed the world's first crypto ETF based on NCI in February. • Kryptoin has filed an Ether ETF application with an NAV to be calculated by CF Ether-Dollar US Settlement Price, whilst awaiting the SEC's decision on its CFB-supported BTC ETF. There's little sign that the SEC will get a break from the stream of crypto paperwork any time soon.
The Returns: CF Cardano-Dollar Settlement Price
One of our newest benchmarks, CF Cardano-Dollar Settlement Price confirmed ADAUSD remained on a tear at time of writing. Rising from $1.0473 on July 20 to $2.8918 by August 23, the once-a-day Reference Rate depicts gains amounting to 176%.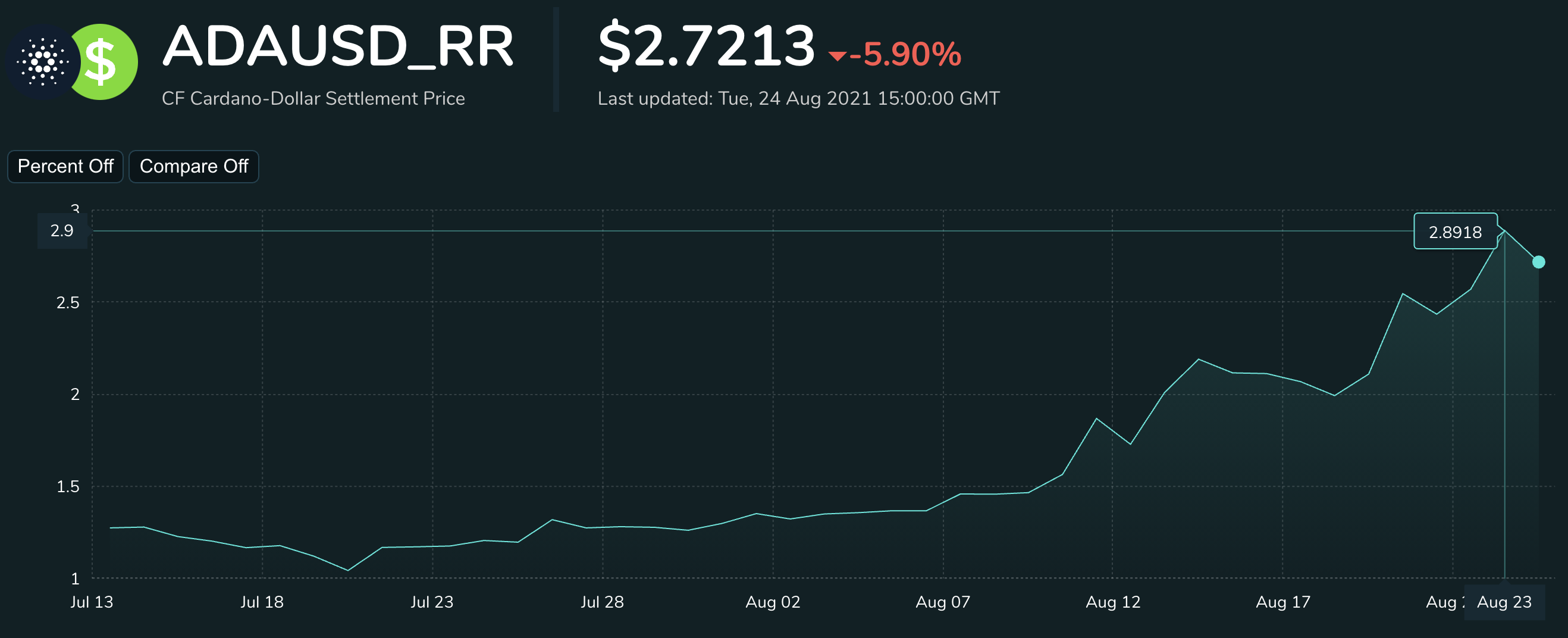 Featured Benchmarks: CME CF Bitcoin Reference Rate
Bitcoin futures ETFs with end-to-end regulation in focus
The SEC's clearest 'guidance' on Bitcoin ETFs yet backs our view that it favours fully regulated crypto funds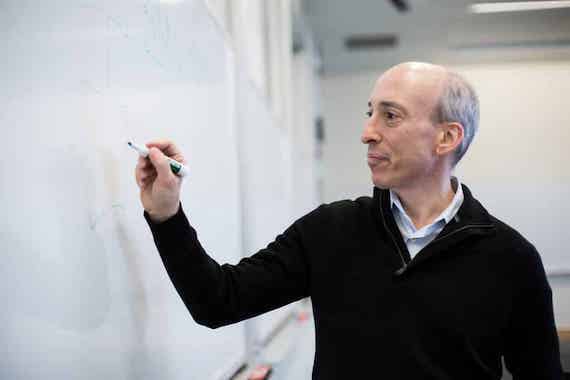 Of all the far-reaching developments in the institutional crypto space over the summer, among the most significant were comments by the chair of the Securities and Exchange Commission, Gary Gensler, that were widely interpreted as delineating the conditions required for the agency to grant approval for a Bitcoin ETF.
It was earlier this month that Gensler provided the commission's clearest signal yet that the widely sought goal of a crypto ETF was attainable, though perhaps not in the way most commonly expected. His comments came in a wide-ranging speech. Here, we're most interested in the cryptoasset investment sector, so we'll limit our focus to his remarks pertinent to those aspects.
From our perspective, as a regulated provider of cryptocurrency benchmarks that power a growing range of exchange traded products, Gensler's comments on cryptocurrency markets have always warranted more careful consideration than they've generally garnered.
Not least because, as a former MIT professor who taught classes on blockchain and digital currencies as well as a former chair of the CFTC, he is probably the most knowledgeable SEC chair yet in terms of the nexus of established markets, regulated cryptocurrency markets, and crypto more broadly.
Read the rest of this article on our website.
The information contained within is for educational and informational purposes ONLY. It is not intended nor should it be considered an invitation or inducement to buy or sell any of the underlying instruments cited including but not limited to cryptoassets, financial instruments or any instruments that reference any index provided by CF Benchmarks Ltd. This communication is not intended to persuade or incite you to buy or sell security or securities noted within. Any commentary provided is the opinion of the author and should not be considered a personalised recommendation. Please contact your financial adviser or professional before making an investment decision.