CF Benchmarks Recap - Issue 38
These are Gensler's least equivocal remarks yet on this topic, indicating a potential line of least resistance.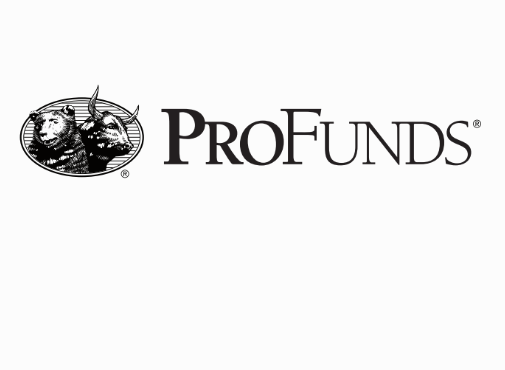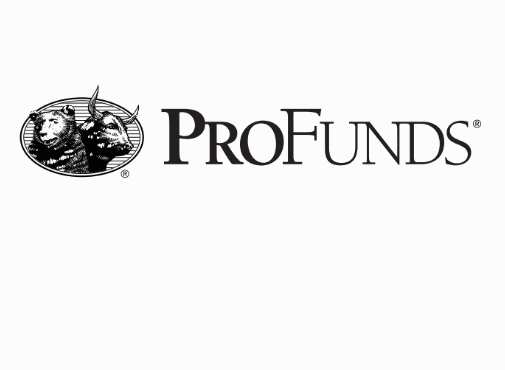 Gensler 'looks forward' to BTC futures ETF, floodgates open

ProFunds pioneers BTC mutual fund

ProShares, Invesco in flash Bitcoin futures ETF filings

Flood of filings continues
Recent weeks brought the best crypto price relief since May, with CME CF Bitcoin Reference Rate (BRR) advancing 24% in July, despite two visits to $29k within a month. BTC's tendency to post its biggest gains and losses on a minority of trading days was in effect. The BRTI real-time benchmark declined for 3 straight weeks till $29,503.9, on July 21st, lowest since January (timestamp: 01:16 UTC). It then peaked at $42,601.58 on August 1st, 03:57 UTC. ETH stabilised just above its June floor: ETHUSD_RTI's low was $1,719.57 on July 20th, 09:58, with a top at $2,554.52 on July 31st, 23:34 UTC. ETH's two-day lead vs. BTC on Thursday (~13% vs. ~6.8%) reflected Ether's EIP-1559 upgrade. The jury's out on possible price impact, but EIP doesn't meet CF Benchmark's Hard Fork Determination Criteria, so calculation changes are unlikely. The $1 trillion U.S. Infrastructure bill, which expands crypto 'broker' taxation, is a broader negative. Still, the proliferation of institutional adoption continues: (1) ProFunds launched the first U.S. Bitcoin mutual fund; (2) BTC futures ETF filings from Invesco and ProShares; (3) A multi-asset crypto ETF filing from Victory Capital (4); Brazil's QR Asset will soon launch an Ether ETF after listing QBTC11 just weeks ago. More below.
ProFunds pioneers BTC fund; ProShares files BTC ETF
ProFunds, the $60bn-AuM investment firm that owns ProShares, has launched the first U.S. Bitcoin mutual fund, with CF US Bitcoin Settlement Price as Performance Index. Bitcoin Strategy ProFund may not be the most widely desired crypto breakthrough, but it's the first BTC fund open to all U.S. investors, therefore it's still a watershed. Plus, ProFunds' voluntary decision to report performance against the most stringent BTC settlement price available for U.S. market hours, demonstrates abundant transparency, and is a major endorsement of CFB methodology. Meanwhile, late-week drama saw ProShares group file for a Bitcoin ETF after all (its latest application), though it will invest in BTC futures. Invesco's similar filing emerged almost simultaneously. Both seek exposure by continuously rolling CME BTC contracts; which settle to BRR.
Gensler gives the nod
Comments from SEC chair Gary Gensler on BTC futures ETFs triggered the flash filings. The regulatory outlook for BTC remains inconclusive amid mixed signals, but Gensler's crypto utterances have increased of late. The key comments: "I anticipate that there will be filings with regard to exchange-traded funds (ETFs) under the Investment Company Act ('40 Act). When combined with the other federal securities laws, the '40 Act provides significant investor protections. Given these important protections, I look forward to the staff's review of such filings, particularly if those are limited to these CME-traded Bitcoin futures." These are Gensler's least equivocal remarks yet on this topic, indicating a potential line of least resistance.
The Returns: July Reference Rate returns
Significant improvement month-on-month, with almost all rates positive, and LINK a notable alt outperformer.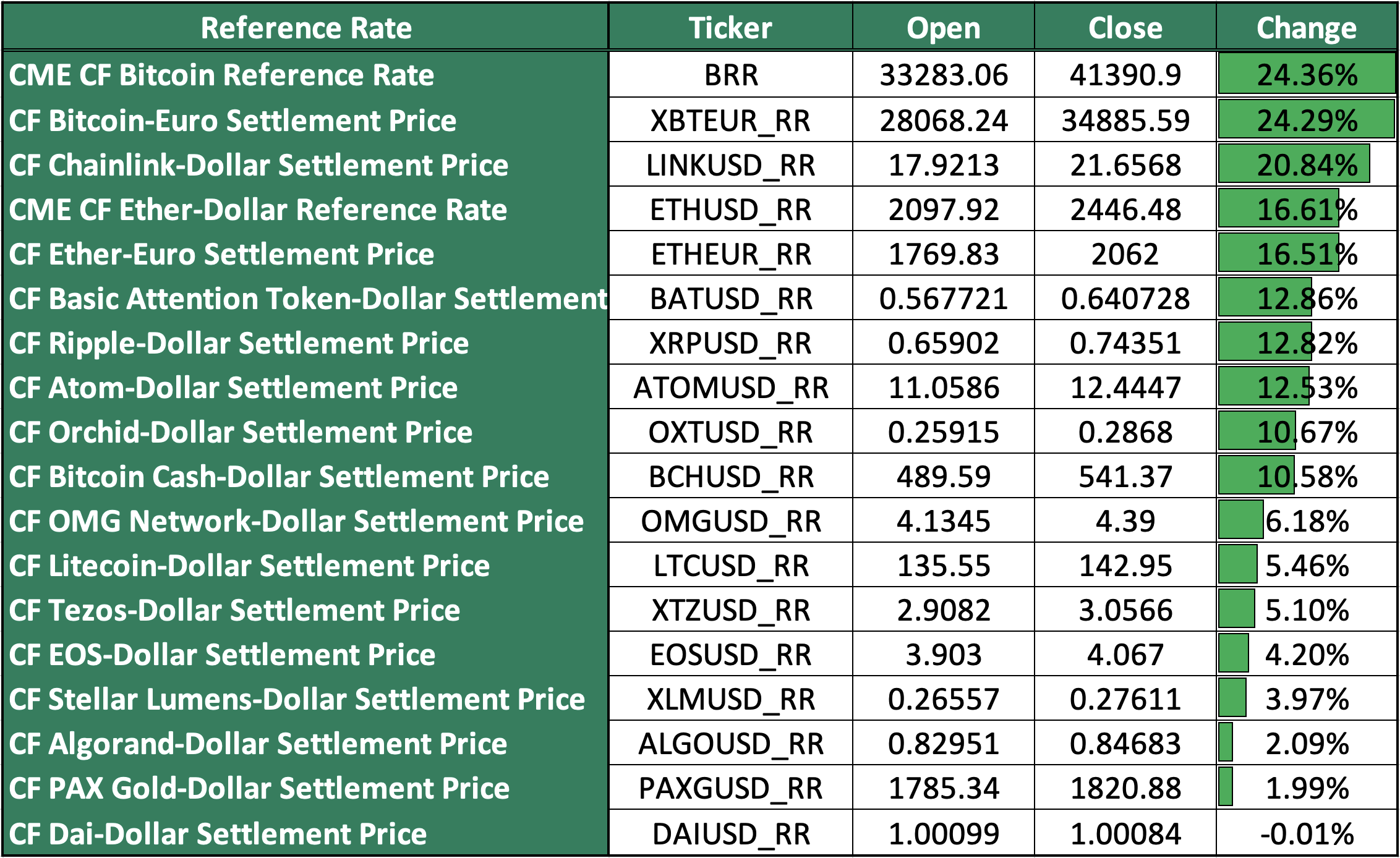 Featured benchmarks: CF Bitcoin-Dollar US Settlement Price
ProFunds launches First U.S. Bitcoin Mutual Fund – with CF Benchmarks-powered Performance Index
The first Bitcoin fund available to all U.S. investors is powered by CF Benchmarks' regulated CF Bitcoin US Settlement Price
ProFunds, the diversified mutual funds group with $60bn in assets under management that is parent company to leading ETF provider ProShares, has launched the first U.S. Bitcoin mutual fund. Bitcoin Strategy ProFund (exchange ticker: BTCFX). BTCFX will use one of CF Benchmarks' regulated Bitcoin indices as its Performance Index.
BTCFX instantly becomes the first and only widely available U.S. cryptocurrency fund – distinct from numerous crypto funds that are only available to accredited investors (for example, Grayscale Bitcoin Trust). This fact alone makes the news a true watershed moment for Bitcoin and crypto.
Read the full announcement on our website.
Featured benchmarks: ADAUSD_RR, COMPUSD_RR, FILUSD_RR, UNIUSD_RR
CF Benchmarks launches Settlement Price and Spot Rate indices for DeFi coins UNI and COMP, plus utility tokens ADA and FIL
DeFi and utility tokens pass a significant milestone as CF Benchmarks extends regulated Benchmark Methodology to Uniswap, Compound, Cardano and Filecoin

Decentralised finance (DeFi) is receiving one of its strongest corroborations yet as a force to be reckoned with across the established financial world as CF Benchmarks brings its regulated Benchmark Methodology to prices for Uniswap and Compound, two of the most rapidly developing platforms for DeFi functionality and among the fastest-growing networks in terms of total value locked.
CF Benchmarks is also launching Benchmark indices for leading utility tokens Cardano, powered by the first demonstrably secure proof-of-stake network Ouroboros, and Filecoin, the currency for incentivising the provision of and paying for the use of decentralised storage.
Read the full announcement on our website.
The information contained within is for educational and informational purposes ONLY. It is not intended nor should it be considered an invitation or inducement to buy or sell any of the underlying instruments cited including but not limited to cryptoassets, financial instruments or any instruments that reference any index provided by CF Benchmarks Ltd. This communication is not intended to persuade or incite you to buy or sell security or securities noted within. Any commentary provided is the opinion of the author and should not be considered a personalised recommendation. Please contact your financial adviser or professional before making an investment decision.