CF Benchmarks Recap - Issue 21
The market may well have witnessed its biggest single-session drop ever—since the last one a few weeks ago—though institutional crypto convergence continued apace.
Crypto's taper-less tantrum

ETF Watch: Early AuMs and eyes on SEC

CME CF Ether-Dollar Reference Rate research summarised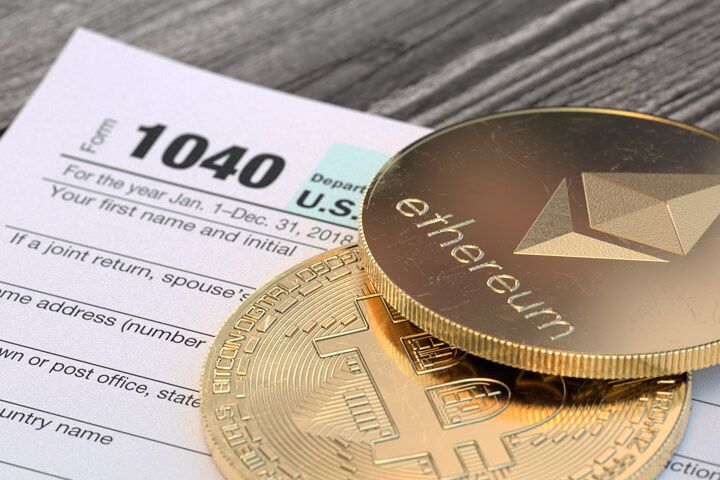 A normal crypto tantrum
For better or worse Bitcoin, Ether and other digital assets were again little differentiated from classes like stocks and fixed income in a 'taper-less tantrum' that ensued despite Fed chair Powell affirming that policy changes would come with "a lot of advance warning". Cue reflationary momentum, plus the precision-targeted shock of a weak 7-year Treasury auction, catalysing a psychologically charged 1.5% 10-year UST yield. As such, margin calls amid typical hyper-leveraging (according to Coindesk), not to mention the rising urgency of a correction after a five-month rally were rather normative. Including for crypto. Both Bitcoin and Ether continued to trend lower into the end of the week though the latter appeared to get its worst out of the way earlier. The benchmark BRTI made a fleeting visit to $44,184.67 (timestamp: 07:46 UTC 2021-02-26) before snapping rapidly back up to the $45,000 handle, though Friday's Bitcoin Reference (BRR) Rate print (at 4pm London Time as usual) of $47,001.63 maintained an emblematic ~$10k gap between its most recent peak - $57,410.22, on 21st February. The market may well have witnessed its biggest single-session drop ever—since the last one a few weeks ago—though institutional crypto convergence continued apace. Ether's similarly sizeable correction proved an opportunity for the ETHUSD_RTI benchmark to again demonstrate stability and robustness, eschewing a flash-crash low on Monday a few ticks under $700, to establish the floor at $1,538.32, timestamp: 14:18 UTC. A timely reminder of Ether's CME CF Constituent Exchange market integrity as we publish in-depth research on ETHUSD_RR corroborating its avoidance of manipulation, transparency and replicability.
Evolve and Purpose AuMs swell
Early assets under management data erased doubts about demand for the first-ever Bitcoin ETFs. Purpose Bitcoin ETF and Evolve's Bitcoin ETF posted C$624m and C$39.985m in AuM respectively as of Thursday's close. There were also signs that the widely hoped for normalisation of BTC investment costs had begun. Evolve's fund (which references BRR) reduced its NER to 0.75%, compared with the 1% fee for Purpose's fund.
Eyes on SEC affer NYDIG filing
The nascent product market keeps up the pressure on the other major North American regulator. An S-1 filing by custodian NYDIG provides the first chance of an insight into new SEC chair Gary Gensler's thinking. Meanwhile, the first outflows and premium declines in years at dominant Bitcoin trusts suggest investors are beginning to sense a U.S. ETF is approaching.
MSTR relentless, SQ persuasive, Bitfinex 'mandated'
MicroStrategy's latest tranche of Bitcoin was worth $1.026bn as of Wednesday's purchase, bringing total holdings to $4.5bn. Square, which joined MSTR in the spotlight last summer for similar reasons, purchased $170m more BTC for itself and noted $4.57bn in customer buys on its app. The New York Attorney General made clear that despite Tether's take, it and Bitfinex must submit to "mandatory reporting."
The Returns: CF Bitcoin Settlement Price (US close)
The new NY-close benchmark settled ~3 percentage points above BRR's Friday close. Perhaps a more convenient reference for U.S. providers but with the same integrity as BRR.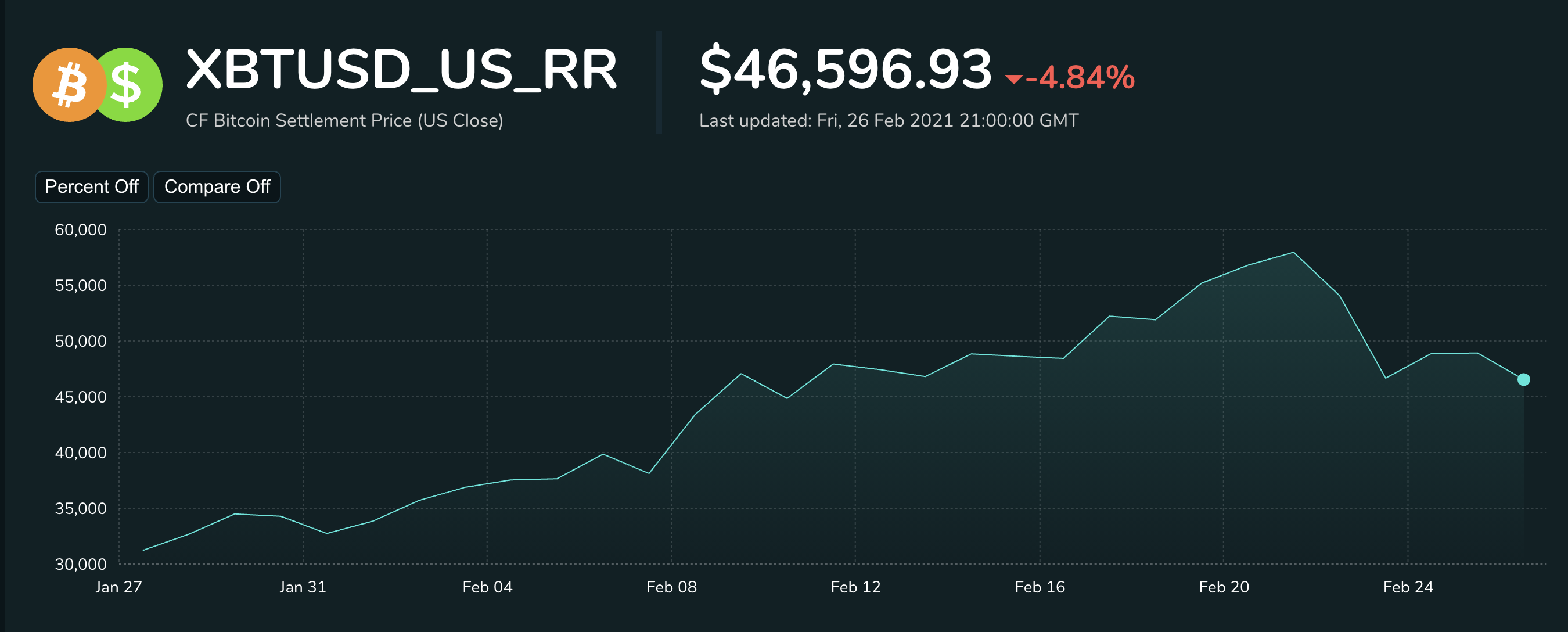 Featured benchmarks: CME CF ETHUSD_RTI, CME CF ETHUSD_RR
ETHUSD_RTI weathers the Ether storm
Just another day at the (volatile crypto) office for the CME CF Ether-Dollar Reference Rate
Crypto price volatility over the last few sessions has again wrought spectacular gyrations typical of the asset class. The regulated CME CF Bitcoin Real Time Index (BRTI) traded at $45,765 a little earlier, compared to the most recent Bitcoin Reference Rate (BRR) all-time high of $57,410.22 from just a day ago.
Price action appeared even more ferocious for Ether, the second most valuable crypto by free-float market capitalisation. At around midday UTC, the CME CF Ether-Dollar Real Time Index (ETHUSD_RTI) was 18.17% lower than 24 hours earlier, compared with BRTI's approximately 13% drop.
Prices on some exchanges, including some Constituent Exchanges from which the preeminent Ether benchmark price, CME CF Ether-Dollar Reference Rate (ETHUSD_RR) is derived, have displayed swings of even greater intensity.
From a benchmark perspective, the most important point to make is that the Ether market as represented by CF Benchmarks' Ether instruments, ETHUSD_RR and ETHUSD_RTI, has remained stable and orderly throughout the turbulence. They've thereby fulfilled the purpose of indices that are authorised as Benchmarks under EU and UK regimes. Given a transparent, rules-based methodology that is stringently enforced and monitored, there is no question of any lapse in price integrity or accuracy.
The rest of this article follows here.
The CME CF Ether-Dollar Reference Rate: Integrity Defined
Our latest research confirms that the CME CF Ether-Dollar Reference Rate (ETHUSD_RR) is the most trustworthy Ether market, with prices that are consistently achievable at an institutional scale
Trading of the CME Group's new Ether Futures contract, which settles to the regulated CME CF Ether-Dollar Reference Rate (ETHUSD_RR) is off to a solid start. 1,856 contracts were traded in CME Ether's first week, worth around 92,000 Ether. It's a promising gradient of early volume growth that backs the view that institutional participants have been chomping at the bit to participate in the market of the second-largest cryptocurrency.
Looking at the expansion of the DeFi market—which owes almost all its existence to Ethereum's ERC-20 protocol—part of the impetus behind demand for Ether is obvious. It's worth noting that, in partnership with the CME, CF Benchmarks launched ETHUSD_RR as early as May 2018. Therefore, there's good reason to assume that the timing of the exchange's launch of Ether futures, almost three years later, was deemed to be optimal.
The rest of this summary of our latest research is on our website.
The information contained within is for educational and informational purposes ONLY. It is not intended nor should it be considered an invitation or inducement to buy or sell any of the underlying instruments cited including but not limited to cryptoassets, financial instruments or any instruments that reference any index provided by CF Benchmarks Ltd. This communication is not intended to persuade or incite you to buy or sell security or securities noted within. Any commentary provided is the opinion of the author and should not be considered a personalised recommendation. Please contact your financial adviser or professional before making an investment decision.