CF Benchmarks Recap - Issue 20
A more pressing question than 'where next for BTC's price?' was whether the OSC's resoluteness would encourage the SEC off the fence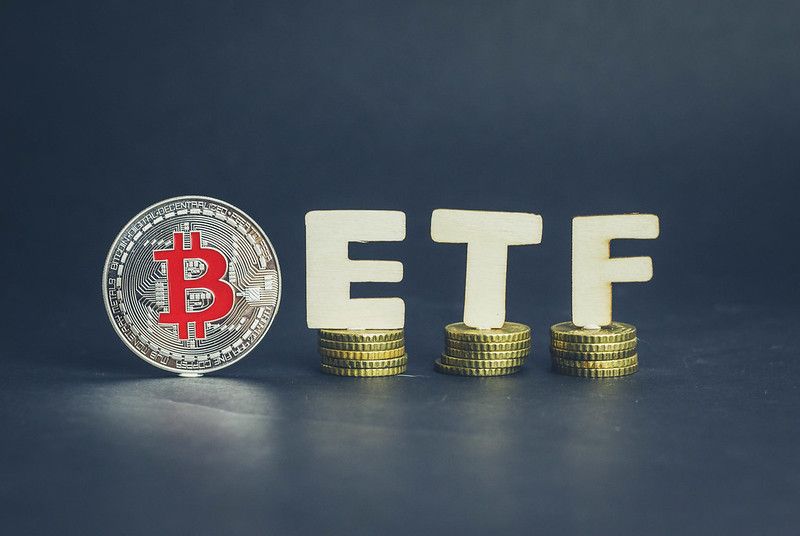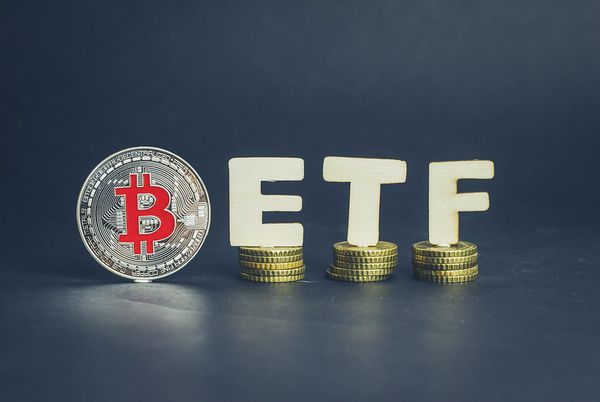 Crypto takes giant leap forward with Evolve's Bitcoin ETF
BlackRock dabbles, NYDIG files, MicroStrategy buys more
Bitcoin points upwards from $56k into the weekend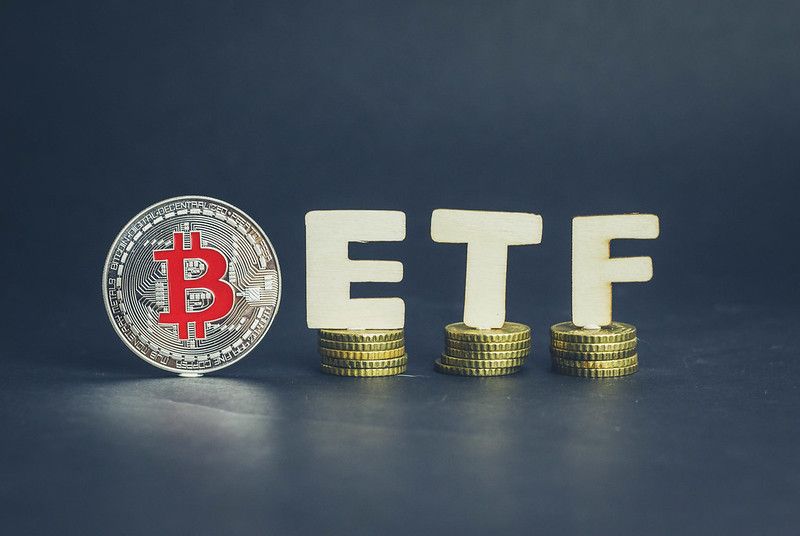 'EBIT' caps $100k half-way point
For the umpteenth week, keeping up with crypto 'capitulation' news flow has been a challenge in itself, whilst the trading atmosphere remained heady: Bitcoin was around 10% higher on Friday alone by late North American trading. Meanwhile, the apparent return of animal spirits to conventional asset classes coincided with the continuing catalytic convergence of ever more weighty institutions into the digital assets space, creating a virtuous circle of rising prices and increasingly influential participants. With our regulated Bitcoin Real Time Index breaking beyond the week's $50k milestone into the $56k handle at the time of writing (latest record: $56,336.65, timestamp: 21.13.05 UTC) the natural question was where and when the expansive run might end. There are no answers to speculative questions here, unfortunately. In principle though, such concerns were superseded by one of the week's most promising inflection points: the Ontario Securities Commission granting regulatory approval to only the second Bitcoin ETF ever - days after giving the OK to the first. What's more, in a rapid evolution relative to the first BTC product to which the term 'ETF' is ascribable in the strictest legal sense, Evolve Funds Group Inc.'s Bitcoin ETF (TSX ticker: EBIT) is the first with a portfolio and NAV calculated by a regulated benchmark, The Bitcoin Reference Rate (BRR). Evolution for the asset class indeed. As such, a more pressing question than 'where next for BTC's price?' was whether the OSC's resoluteness would encourage the SEC off the fence.
Evolve Bitcoin ETF (EBIT) – Top 5 facts
It invests directly in Bitcoin, not BTC derivatives.
Its portfolio and daily NAV are based on the CME CF Bitcoin Reference Rate, the benchmark devised and administered by EU-authorised, UK FCA-regulated Benchmark Administrator, CF Benchmarks.
Unhedged (EBIT) and U.S. dollar-hedged (EBIT.U) units are available.
In line with its goal of direct Bitcoin access, EBIT's Bitcoin investments are generally passive or in response to subscriptions. Disposals mostly fund expenses and redemptions.
In Canada, EBIT is eligible for Tax Free Savings Accounts and Registered Retirement Savings Plans. Direct Bitcoin holdings are not.
Capitulation & Expansion: BLK, NYDIG, BITW, MSTR
Following BlackRock's recently gained facility to trade, regulated cash-settled BTC futures (there's only one such contract), it this week signalled it's started to dabble. Bitwise outpaced heavyweight rivals to the launch of the first-ever DeFi index fund. It's for accredited investors only. NYDIG, custodian of at least $1bn in BTC, threw its ETF hat into the ring with the latest application to the SEC. MicroStrategy isn't done buying Bitcoin. It said the around $1bn raised from this week's convertible notes sale would be allocated to a purchase of that size.
The Returns: EOSUSD_RR also rises
The current crypto rally continues to lift many (if not all) boats, including EOS. An 89% return of the CF EOS-Dollar Settlement Price follows an 107% surge from 27th January's low of $2.498 to Friday's close at $5.172. The alternative smart contract protocol has largely been side-lined by DeFi mania.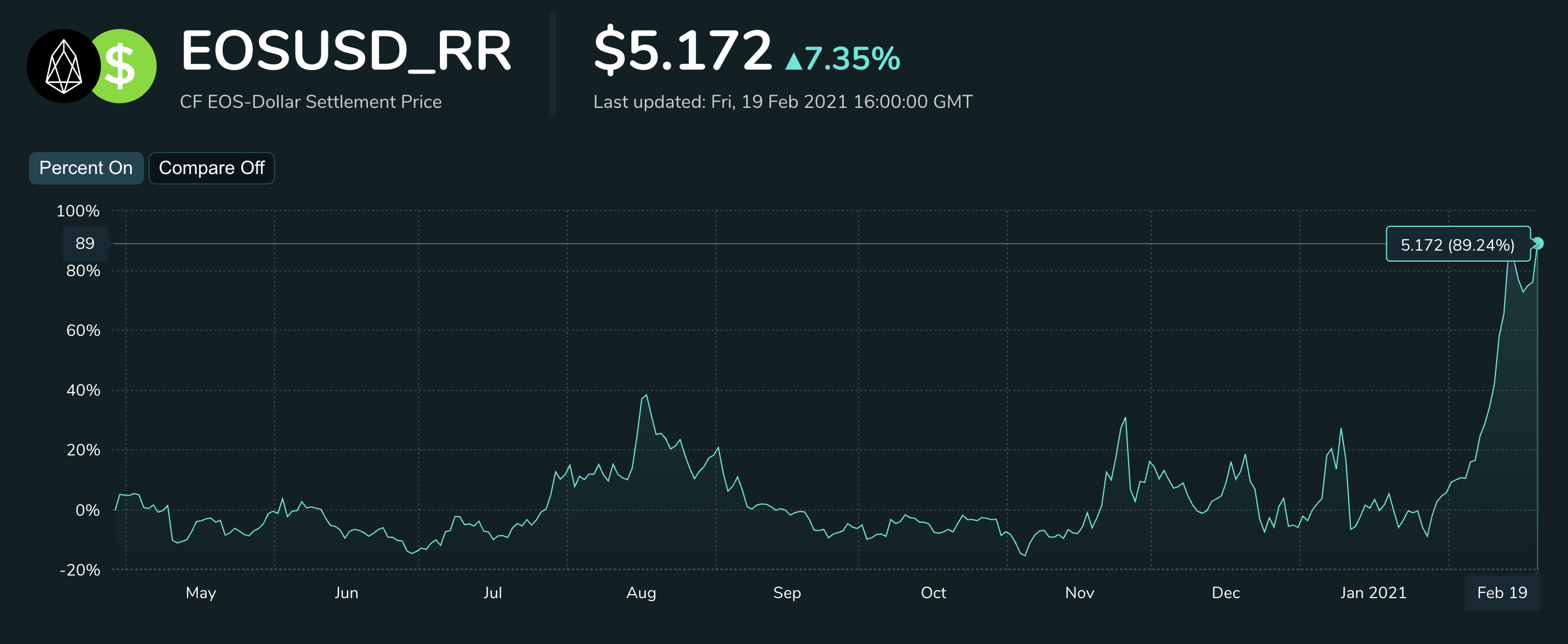 Featured benchmarks: CME CF Bitcoin Reference Rate
BRR powered Bitcoin ETF from Evolve Funds wins Regulatory Approval in Canada
The Net Asset Value of the fund will be calculated using the BRR and hence the value at which the shares in the fund will be created and redeemed by investors will be at that day's BRR value.
Evolve Funds Group Inc. has received regulatory approval from the Ontario Securities Commission ("OSC") to launch the Bitcoin ETF, one of the world's first open-ended bitcoin ETFs.
The Bitcoin ETF will be known by the ticker "EBIT". The ETF will launch on the Toronto Stock Exchange ("TSX") subject to TSX approval. EBIT is designed to provide investors with exposure to the world's leading cryptocurrency, bitcoin, by investing directly in bitcoin and tracking the CME CF Bitcoin Reference Rate ("BRR") from CF Benchmarks. The Net Asset Value of the fund will be calculated using the BRR and hence the value at which shares in the fund are to be created and redeemed will be the BRR value on that day.
"The Bitcoin ETF is exciting news for investors," said Raj Lala, President and CEO of Evolve ETFs. "Investors will be able to trade bitcoin on a regulated stock exchange. It will be as simple as buying shares through their bank or brokerage. Unlike the technical challenges of investing in bitcoin, units of EBIT will be safely transacted via a familiar brokerage investing platform. EBIT will provide daily liquidity, transparency and security for directly purchasing bitcoin through a regulated ETF structure."
In reaction to the news Sui Chung, CEO of CF Benchmarks said: "The cryptocurrency market becomes more integrated with the traditional financial markets by the day. Evolve has developed a true first - giving investors an easy-to-understand product that is available through their existing brokers and advisors that gives ownership of bitcoin. By tracking the Bitcoin Reference Rate from CF Benchmarks, the ETF tracks the value of bitcoin." Looking ahead, Chung also remarked: "Now that the OSC has said that if a product is well constructed enough, the crypto market is sufficiently mature for products that can be accessed by all investors, the industry's attention inevitably turns south of the border to the US. Will the SEC finally decide that the time is right for a Bitcoin ETF?"
CF Benchmarks Ltd Index Data is used under license as a source of information for certain Evolve Funds Group Inc. products. CF Benchmarks Ltd and its agents have no other connection to Evolve Funds Group Inc. products and services and do not sponsor, endorse, recommend or promote any Evolve Funds Group Inc. products or services. CF Benchmarks and its agents have no obligation or liability in connection with the Evolve Funds Group Inc. products and services. CF Benchmarks and its agents do not guarantee the accuracy and/or the completeness of any index licensed to Evolve Funds Group inc. and shall not have any liability for any errors, omissions, or interruptions therein.
Read Evolve Funds Group Inc.'s full announcement here.
Find out more about Bitcoin ETF here.
The information contained within is for educational and informational purposes ONLY. It is not intended nor should it be considered an invitation or inducement to buy or sell any of the underlying instruments cited including but not limited to cryptoassets, financial instruments or any instruments that reference any index provided by CF Benchmarks Ltd. This communication is not intended to persuade or incite you to buy or sell security or securities noted within. Any commentary provided is the opinion of the author and should not be considered a personalised recommendation. Please contact your financial adviser or professional before making an investment decision.