CF Benchmarks Recap - Issue 17
Bitcoin's price behaviour is now the closest to what may be described as 'a range' for the first time in months.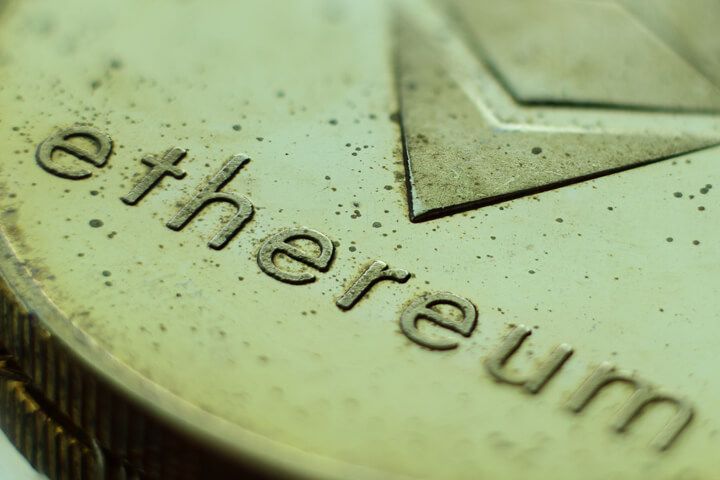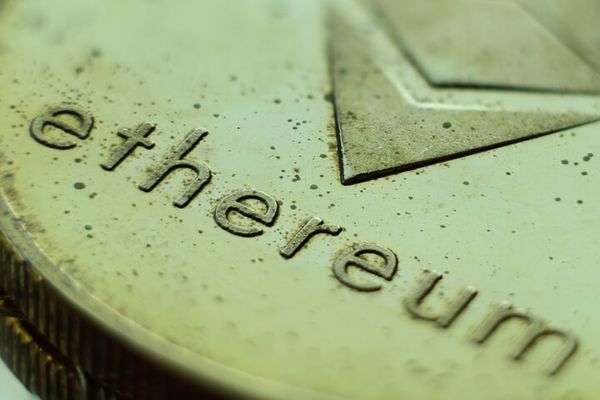 Ether exits exchanges ahead of CME Futures launch

ETH fund announcements quicken

OMG and OXT join CF Cryptocurrency Index Family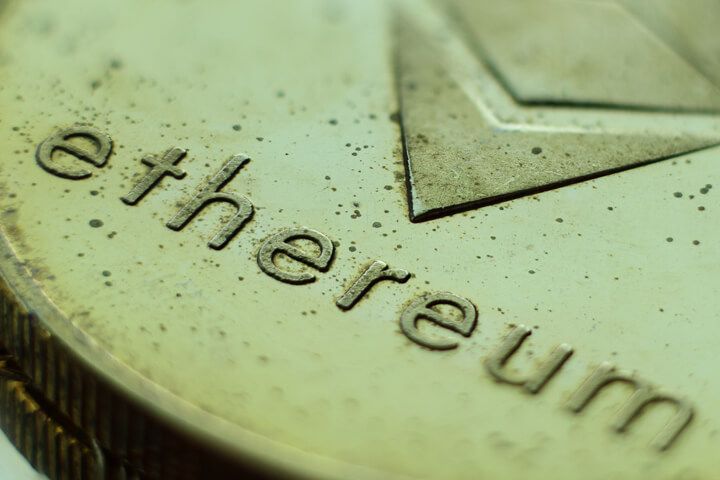 Tighter focus on Ether
ETH tide out, price firm
Bitcoin's price behaviour is now the closest to what may be described as 'a range' for the first time in months; albeit the pattern would be a 'descending pennant', in chart-watchers' terms. CF Bitcoin Real Time Index's 8th Jan. peak of $41,971.68 of course still holds. It's this week's unbroken up-leg since grazing $28,810.66 a week ago that's caught attention. The daily CF Bitcoin Reference Rate closed on Friday up 16.35% in 24 hours alone, at $37,242.30 and 29.27% above that 22nd Jan. floor. This random walk counts as greater stability than earlier this month. Mega-cap coin No.2 has been similarly 'subdued', if not by flows. Our Ether Reference Rate closed at $1,400.75, +13.69% from $1,232.07 22nd Jan. close. $1.6bn worth of ETH withdrawn from top exchanges—the most in 15 months, according to Glassnode—was more intriguing. Decrypt attempted to scope out why this happened. Looming tax reporting dates (including the UK's) are another unsubstantiated possibility. The approaching launch of CME's Ether Futures (scheduled 8th Feb.) settled to CF ETH-USD Reference Rate, the only regulated Ether derivative, is as cogent a rationalisation as any. It's worth recalling the advent of the CME's BTC Futures in December 2017 here. That enabled institutions to finally join the fray compliantly, heralding the end of the bull run to the borders of $20,000 at that time, weeks later.
ETH funds go Galactic
Large capitalisation institutional funds also appear to be warming to Ether at an increasing rate. Eventually, this may presage a similar dilemma as per Bitcoin, where increased 'adoption' is obviously positive for the ecosystem, though the shortfall to a fully regulated ETF index could remain considerable. Ether's latest major fund protagonist is former hedge fund manager Mike Novogratz and his Galaxy Digital vehicle. 'Galaxy Ethereum Fund' will follow the playbook of other crypto institutional vehicles, like Grayscale's ETH trust, meaning creditable compliance, but with high barriers to entry for all but 'accredited' investors. More at The Block.
Funds galore, no ETF
Readings out this week from asset management firm CoinShares underline the extent to which a large-cap open-ended crypto fund is seen as a compelling commercial proposition, not least because of evident demand. The group noted inflows to such vehicles reached an all-time high of $1.3bn in the week ending 22nd January. At some point the incongruity of this evident demand in contrast with the lack of a regulated asset may trigger a reaction from the SEC and others, though prospects remain murky. Read more on Decrypt.
The Returns: New OXT Reference Rate rangebound
OXTUSD_RR is among our newest authorised benchmarks after this week's launch, though our published data on the regulated Reference Rate extends retrospectively to September. Transparent pricing data confirms that although the Orchid Digital Currency was at one point in August 2020 up 400% higher over the space of just a couple of months—according to other price sources—the benchmark CF Orchid-Dollar Settlement Price is largely flat-to-weaker compared to its price on 15th September 2020. It closed on Friday up 1.33% on the day at $0.28956, though that is 15.96% lower over around 4½ months.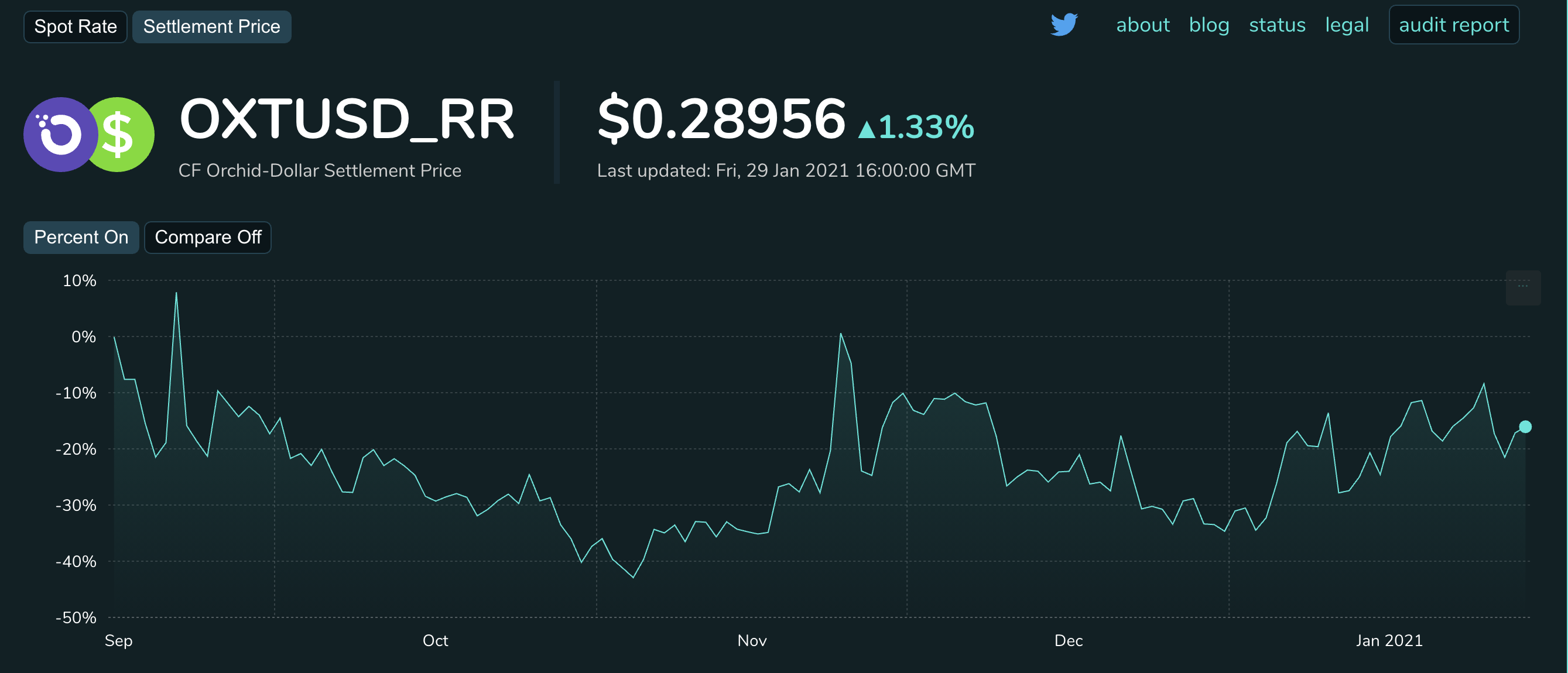 Featured benchmarks: CF OMG-Dollar Settlement Price, CF Orchid-Dollar Settlement Price
Benchmark indices for OMG Network (OMG) and Orchid (OXT) against US Dollars (USD) launched
CF Benchmarks will begin publishing indices for OMG Network (OMG) and Orchid (OXT) on Thursday 28th January 2021.
From 1630 London time today, each asset will be represented by both a per-second Spot Rate (24/7), and a once-as-day Settlement Price published 365 days a year. Transaction and Order Book data for these indices will be drawn from the following Constituent Exchanges:

OXT:
CF Orchid - Dollar Settlement Price
CF Orchid - Dollar Spot Rate
OMG:
CF OMG Network - Dollar Settlement Price
CF OMG Network - Dollar Spot Rate
As well as helping to develop the financial ecosystem around these assets, the indices will also bring standardised and transparently determined valuations of the assets to the substantial community of users of these assets. This will help alleviate frictions in valuing and accounting for holdings that many investors and holders often encounter.
"We are excited to be able to break new ground for OMG Network and Orchid and extend our coverage of the cryptocurrency asset class at this exciting time. Our benchmark price indices are the first for these assets to be offered by a regulated Benchmark Administrator," said Sui Chung, CEO of CF Benchmarks. "This means financial services providers can now use our indices and offer products referencing these assets with the confidence that a robust and transparent benchmark price index, calculated using tried and tested methodologies, brings."
Full release here.
The information contained within is for educational and informational purposes ONLY. It is not intended nor should it be considered an invitation or inducement to buy or sell any of the underlying instruments cited including but not limited to cryptoassets, financial instruments or any instruments that reference any index provided by CF Benchmarks Ltd. This communication is not intended to persuade or incite you to buy or sell security or securities noted within. Any commentary provided is the opinion of the author and should not be considered a personalised recommendation. Please contact your financial adviser or professional before making an investment decision.