CF Benchmarks Recap - Issue 11
Cryptocurrency markets have however amply demonstrated the same proneness to common behavioural patterns as any other financial markets, where consolidation manifests as profit taking, seasonality, and more
Bitcoin continues to hang back

Ethereum's Beacon lights the way

CF Benchmarks launches Crypto Tax & Reporting Calendar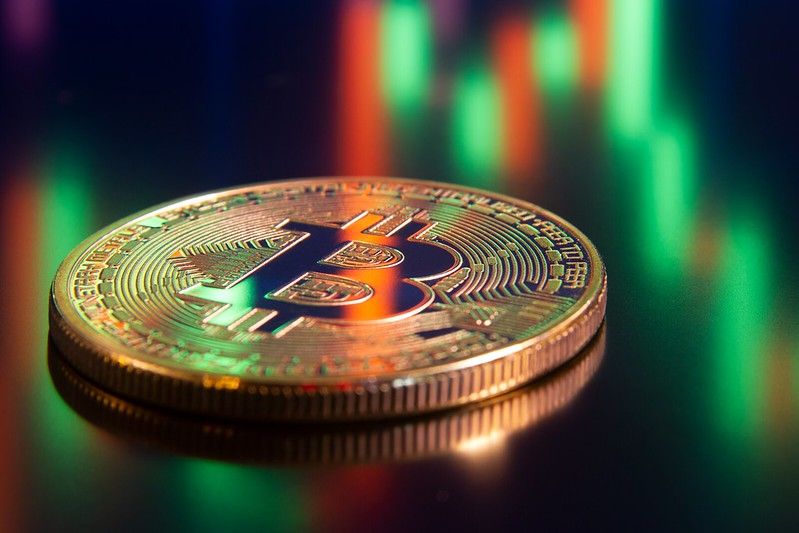 The Scenic Route
Bitcoin has continued its very recent pattern of setting ephemeral new highs in step with ebullient sentiment across other risky asset classes. The regulated Bitcoin Real Time Index (BRTI) set the latest in a string of new all-time highs on Tuesday 1st December at 11:10:37 UTC when it momentarily marked $19,915.80. The minute-by-minute BRTI printed the new zenith for just one such interval before the price ticked back lower, though the gauge remained in the vicinity for several hours. Indeed, depending on how relative the definition of vicinity is, Bitcoin has now hovered in the same region—call them the $19,000s—for over a week. Classic 'technical chart' watchers might well begin to draw tentative conclusions as regards an evident tardiness of the market to test a more aggressive arc of price action close to psychologically charged $20,000, though even tenuous extrapolations beyond that are a fool's errand. Cryptocurrency markets have however amply demonstrated the same proneness to common behavioural patterns as any other financial markets, where consolidation manifests as profit taking, seasonality, and more. Options open interest continues to downplay the chances that price may reach $20k in 2020, though as the timeframe itself dwindles, it increasingly looks like a moot point.
New Ethereum chain has two names, one win
So far so good for another week in Ethereum's transition into a proof-of-stake protocol. The 'Phase 0' chain that's alternatively known as the Beacon Chain went live as (tentatively) scheduled at midday UTC on 1st December. Although the potential for disruption to the wider protocol, and ultimately Ether from the new consensus format, remains quite significant, in practice the transition has been a model one to date. Plans to 'dock' with the current Ethereum mainnet are inchoate. Meanwhile, CME CF Ether-Dollar Reference Rate set its latest two-year settlement high of $613.46 on 3rd December, at a return for the year of 316.84%.
S&P Dow Jones Indices announces crypto launch
S&P Global's S&P Dow Jones Indices unit will begin to participate in the cryptocurrency adoption trend next year, according to its announcement this week. Price data covering over 550 digital assets that S&P plans to list will be provided by New York-based blockchain technology group Lukka Inc. Lukka doesn't possess the 'BitLicense' that the New York State Department of Financial Services has indicated is essential for firms providing crypto financial services. However, the essential nature of Lukka's businesses—technological advisory—appears to largely exempt it for now. S&P Dow Jones's press release for the announcement lacks detail though can be read here.
The Returns: Tezos goes into hibernation
Contrary to popular impressions, the crypto (and mainstream) assets boom hasn't lifted all boats. Following a relatively promising surge in the summer, the Tezos peer-to-peer blockchain's token XTZ retreated into negative YTD returns territory and has remained there since, among 2020's biggest losers.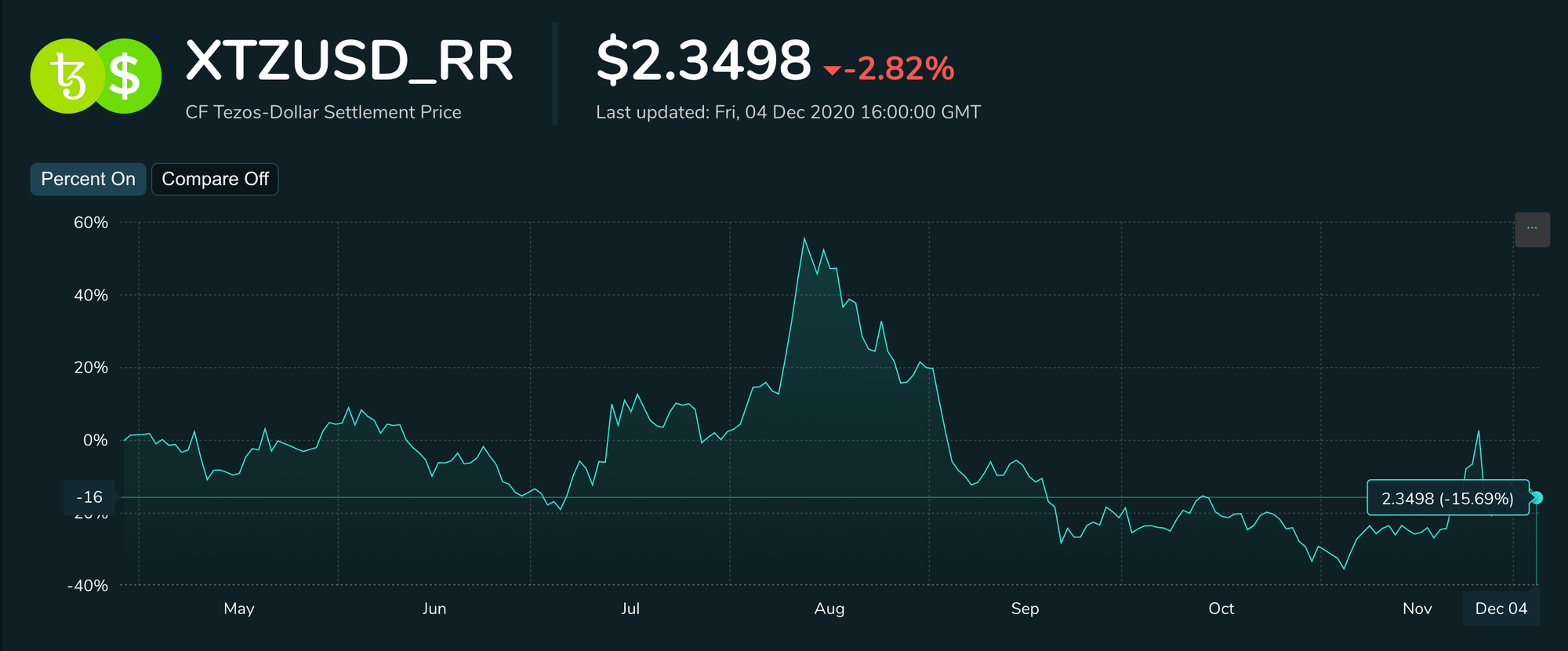 Featured Announcement: Tax & Reporting Calendar
CF Benchmarks Cryptocurrency Tax and Reporting Calendar
How CF Benchmarks Cryptocurrency Price Indices can help you report the value of cryptocurrency holdings and earnings to tax authorities, auditors and other stakeholders that might scrutinise your valuations
This is not and is not intended to be tax advice in any jurisdiction of the world. You should consult your own tax, legal and accounting advisors for any advice on tax matters.
The Problem of Accurate and Precise Valuation of Cryptocurrency Holdings
As anyone who owns or earns cryptocurrency through their work or business knows, there are severe frictions in reporting their value, such as in financial statements and tax returns. Auditors and tax authorities rightly wish to know that the pricing sources used for valuations are accurate, robust and representative. The distributed nature of cryptocurrency trading means there is no single recognised source for cryptocurrency pricing, for example, like there is for stocks, which can be priced according to the closing price on a stock exchange. Additionally, given the volatility of cryptocurrencies, pricing that is precise down to the second is imperative in order that accurate valuations can be measured at key reporting dates such as financial or tax year ends.
How CF Benchmarks helps solve the problem and how you can use our index pricing for your reporting
CF Benchmarks Real Time Indices and Spot Rates take order data from exchanges that meet our strict criteria, this ensures that the CF Benchmarks Cryptocurrency Price indices are calculated using data that is; free from manipulation, any money laundering or criminal activity and from liquid sources
CF Benchmarks Real Time Indices and Spot Rates are calculated using a state-of-the-art, manipulation-resistant, published methodologies, with codified rules for dealing with erroneous, outlier and stale data to ensure they are accurate and robust
https://docs-cfbenchmarks.s3.amazonaws.com/CME+CF+Real+Time+Indices+Methodology.pdf
https://docs-cfbenchmarks.s3.amazonaws.com/CF+Spot+Rate+Methodology+Guide.pdf
CF Benchmarks Real Time Indices and Spot Rates are recognised as Financial Benchmarks under EU BMR. CF Benchmarks operations, policies, processes and governance are regulated by the UK Financial Conduct Authority (FCA) - the primary regulator of financial firms in the UK. You can verify this on the FCA website where a register of authorised firms is hosted:
/launch-of-cf-benchmarks-cryptocurrency-tax-and-reporting-calendar/register.fca.org.uk/s/search?type=Companies&q=CF+Benchmarks
FIND THE FULL CRYPTO REPORTING CALENDAR ON THE CF BENCHMARKS WEBSITE
The information contained within is for educational and informational purposes ONLY. It is not intended nor should it be considered an invitation or inducement to buy or sell any of the underlying instruments cited including but not limited to cryptoassets, financial instruments or any instruments that reference any index provided by CF Benchmarks Ltd. This communication is not intended to persuade or incite you to buy or sell security or securities noted within. Any commentary provided is the opinion of the author and should not be considered a personalised recommendation. Please contact your financial adviser or professional before making an investment decision.