CF Benchmarks Quarterly Attribution Reports - June 2023
Thoroughly dissect and comprehend the performance of our flagship portfolio indices at the constituent, category, and sector levels.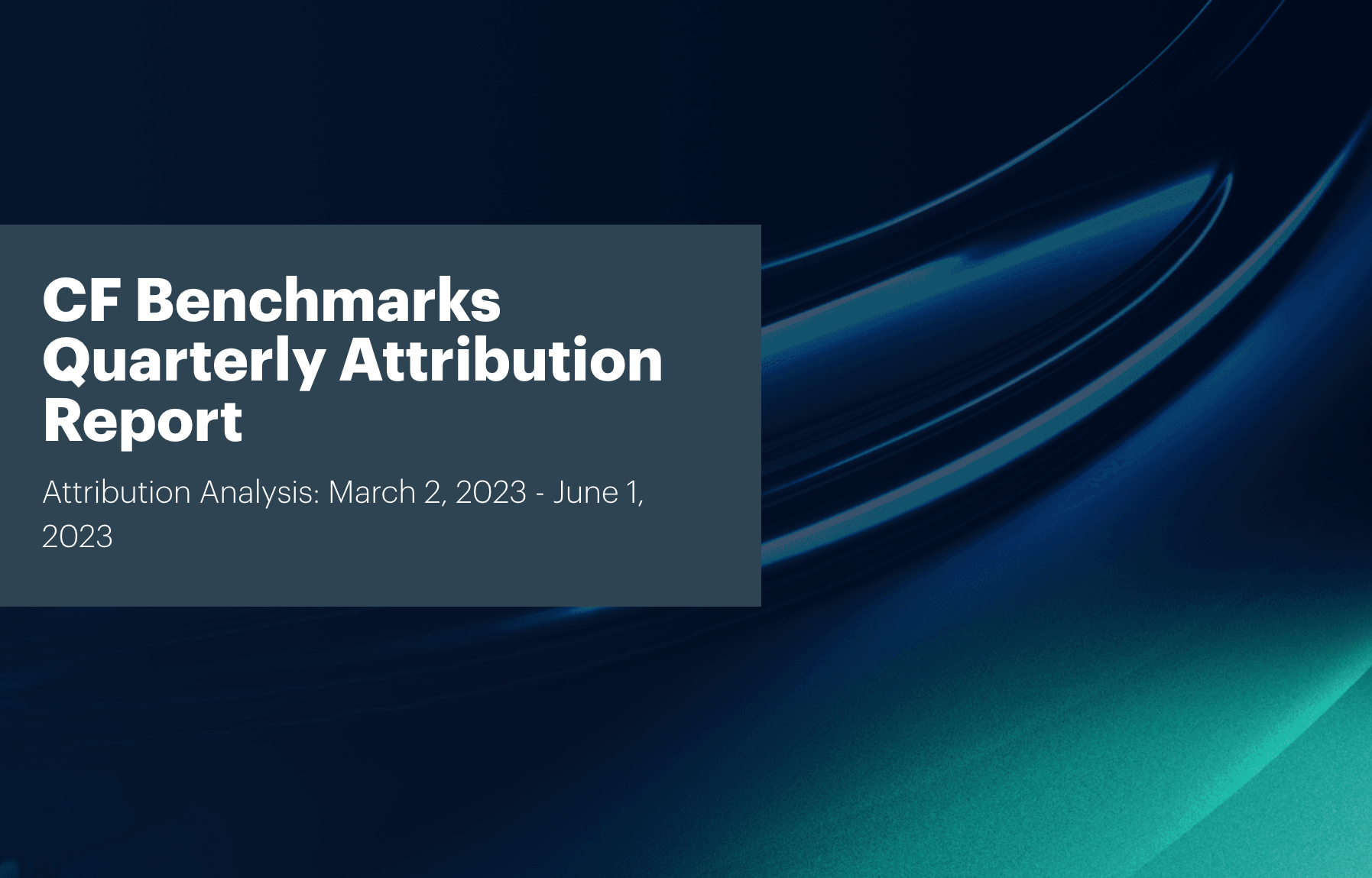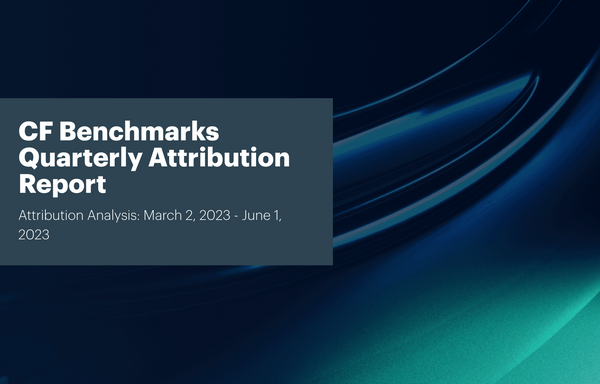 Bank Failures and Lingering Inflation Pressures Whipsaw Digital Assets
The onset of the rebalance period introduced a fresh series of challenges for global markets, marked by a series of U.S. bank failures that initially dampened expectations of future interest rate hikes. This development significantly impacted digital assets, resulting in bitcoin prices surging past the $30,000 mark for the first time since June 2022. However, this positive momentum in price was short-lived due to opposing influences arising from persistently higher inflation, coupled with a robust labor market. These indicators suggest that further tightening efforts might be required from a monetary authority standpoint. Market-based expectations for future policy rates have steadily drifted higher over recent months, but investors still anticipate rate cuts by the end of the year.
From an industry standpoint, several network milestones have been achieved. Firstly, the Ethereum network completed its latest upgrade known as the Shanghai hard fork, which unlocked withdrawals of staked Ether for network validators. This upgrade marked the final step in Ethereum's transition to a Proof of Stake (PoS) system. For Bitcoin, the recent launch of the BRC-20 token standard has allowed for new immutable information to be stored on the Bitcoin blockchain. This standard is being utilized to create NFTs (or digital artworks) on the world's most time tested blockchain for the first time, significantly boosting transaction fee revenues for miners.
Ultimately, the positive price performance remained concentrated within the multi-cap series indices. This dominance was largely due to the two leading mega-cap tokens, Bitcoin and Ether, which outperformed the rest of their constituents. The CF Ultra Cap 5 Index led the pack, rising over 14% and outperforming the broader market. Conversely, the CF Digital Culture Composite Index faced broadly negative pricing sentiment, finishing the rebalance period as the group's primary laggard with a fall of over 21%.
Index Performance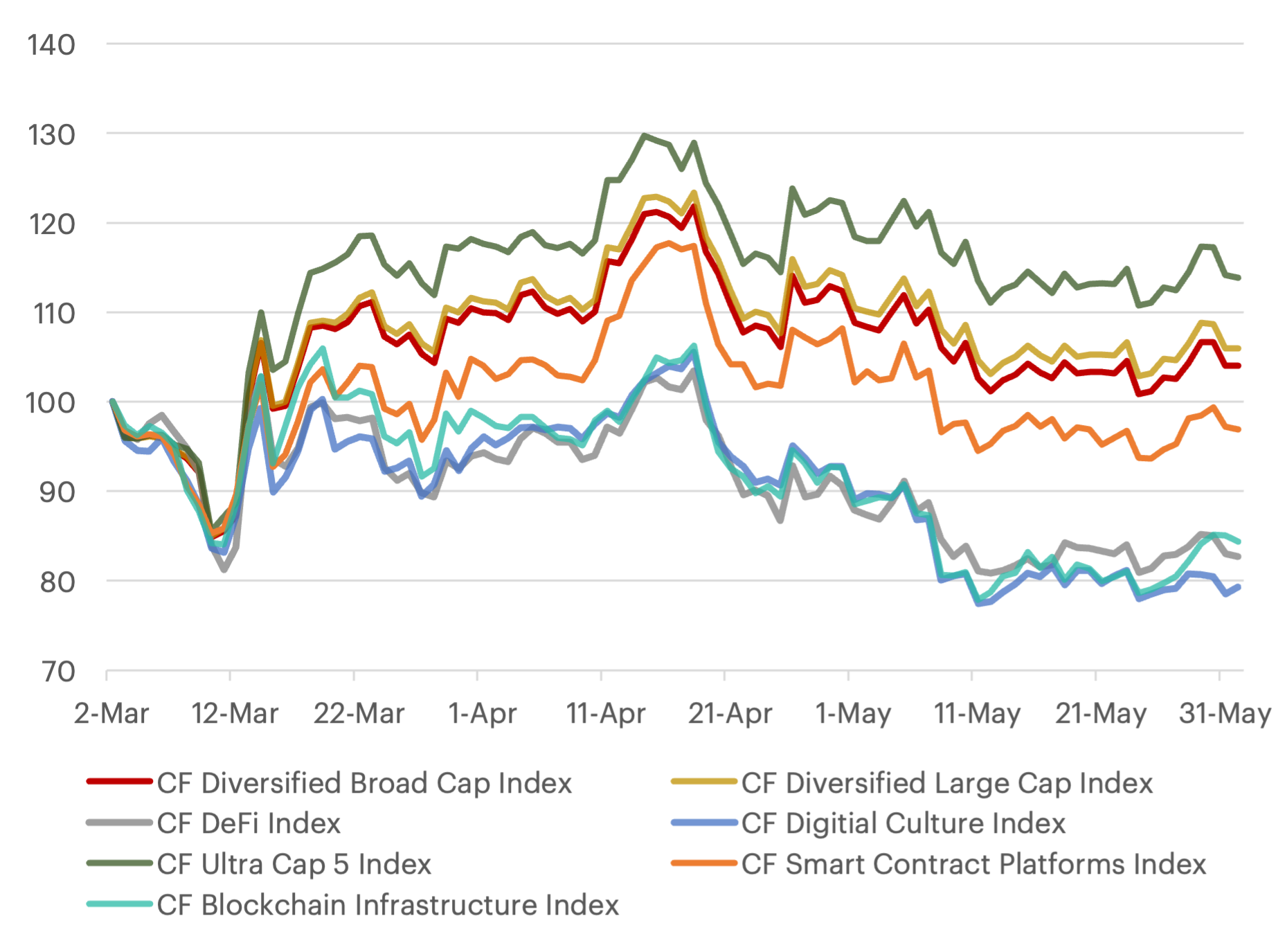 To read the full compilation report or a specific index's report, please click on the respective links below:
Lastly, our Quarterly Attribution Reports are designed to help investors understand the performance of digital assets through a purpose-centric lens called the CF Digital Asset Classification Structure (CF DACS). To learn more about CF DACS, please utilize our interactive CF DACS Token Explorer.
Contact Us
Have a question or would like to chat? If so, please drop us a line to:
The information contained within is for educational and informational purposes ONLY. It is not intended nor should it be considered an invitation or inducement to buy or sell any of the underlying instruments cited including but not limited to cryptoassets, financial instruments or any instruments that reference any index provided by CF Benchmarks Ltd. This communication is not intended to persuade or incite you to buy or sell security or securities noted within. Any commentary provided is the opinion of the author and should not be considered a personalised recommendation. Please contact your financial adviser or professional before making an investment decision.