CF Benchmarks Quarterly Attribution Reports - March 2023
Fully dissect and understand the performance of our flagship portfolio indices from a constituent, category, and sector level.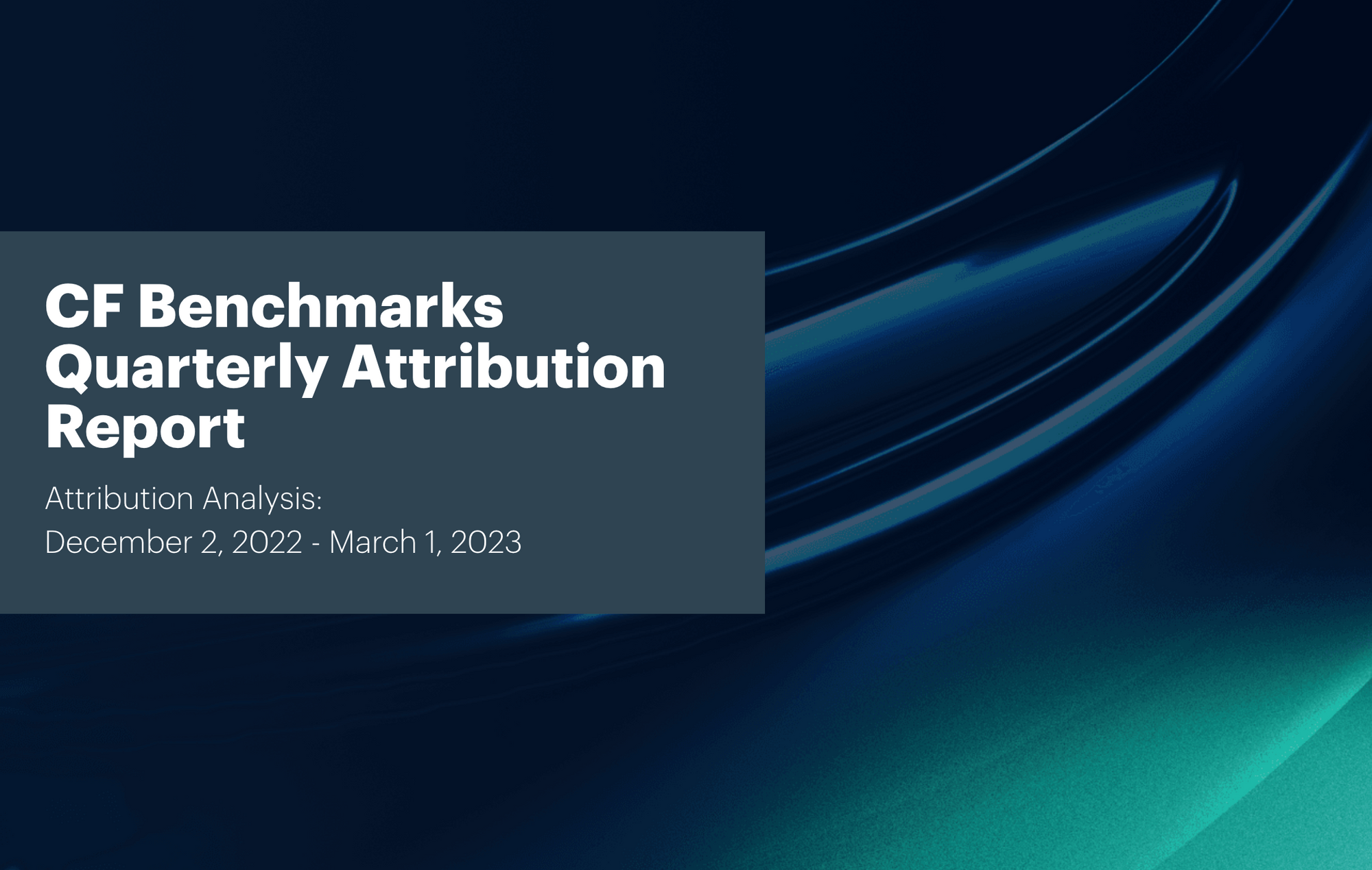 Mixed macro signals leave bulls in limbo
Crypto market bulls have returned in the first quarter of the year. Our flagship CME CF Bitcoin Reference Rate index (BRR) has seen robust performance, rising from a low of approximately $16,000 to almost as high as $25,000. However, recent economic activity leaves crypto market investors in a peculiar place.
On the one hand, inflation data have seemingly embarked upon a disinflationary trend, consumer spending remains robust, and the labor market doesn't seem to be bothered by red flags in the manufacturing sector. On the other hand, these green shoots have provided central bankers with enough reasons to remain hawkish. And that strong labor market has sparked concerns of a wage price spiral, with labor demand, as measured by job openings, remaining above trend, indicating wage pressures could also stay elevated.
Meanwhile, the constructive trend seen in headline inflation (which includes food and energy) has yet to materialize in the much 'stickier' services categories. For example, the super-core services inflation reading, which excludes housing costs, has actually accelerated in recent months. Lastly, if we add ongoing geopolitical tensions into the mix, then there's plenty of uncertainty for risky assets like crypto.
Despite these mixed macro messages, all of our portfolio indices finished the rebalance period in positive territory, with the CF Blockchain Infrastructure Index rallying over 39% and outperforming all of its portfolio index peers and the broader crypto market (as measured by the CF Diversified Broad Cap Index) by approximately 10%. Meanwhile, the CF DeFi Composite Index was the laggard of the group but still posted almost identical relative performance (+28%).
To read the full compilation report or a specific index's report, please click on the respective links below:
Lastly, our Quarterly Attribution Analyses is designed to help investors understand the performance of digital assets through through a purpose-centric lens called the CF Digital Asset Classification Structure (CF DACS). To learn more about about CF DACS, please utilize our interactive CF DACS Token Explorer.
Contact Us
Have a question or would like to chat? If so, please drop us a line to:
The information contained within is for educational and informational purposes ONLY. It is not intended nor should it be considered an invitation or inducement to buy or sell any of the underlying instruments cited including but not limited to cryptoassets, financial instruments or any instruments that reference any index provided by CF Benchmarks Ltd. This communication is not intended to persuade or incite you to buy or sell security or securities noted within. Any commentary provided is the opinion of the author and should not be considered a personalised recommendation. Please contact your financial adviser or professional before making an investment decision.