CF Benchmarks Monthly Market Recap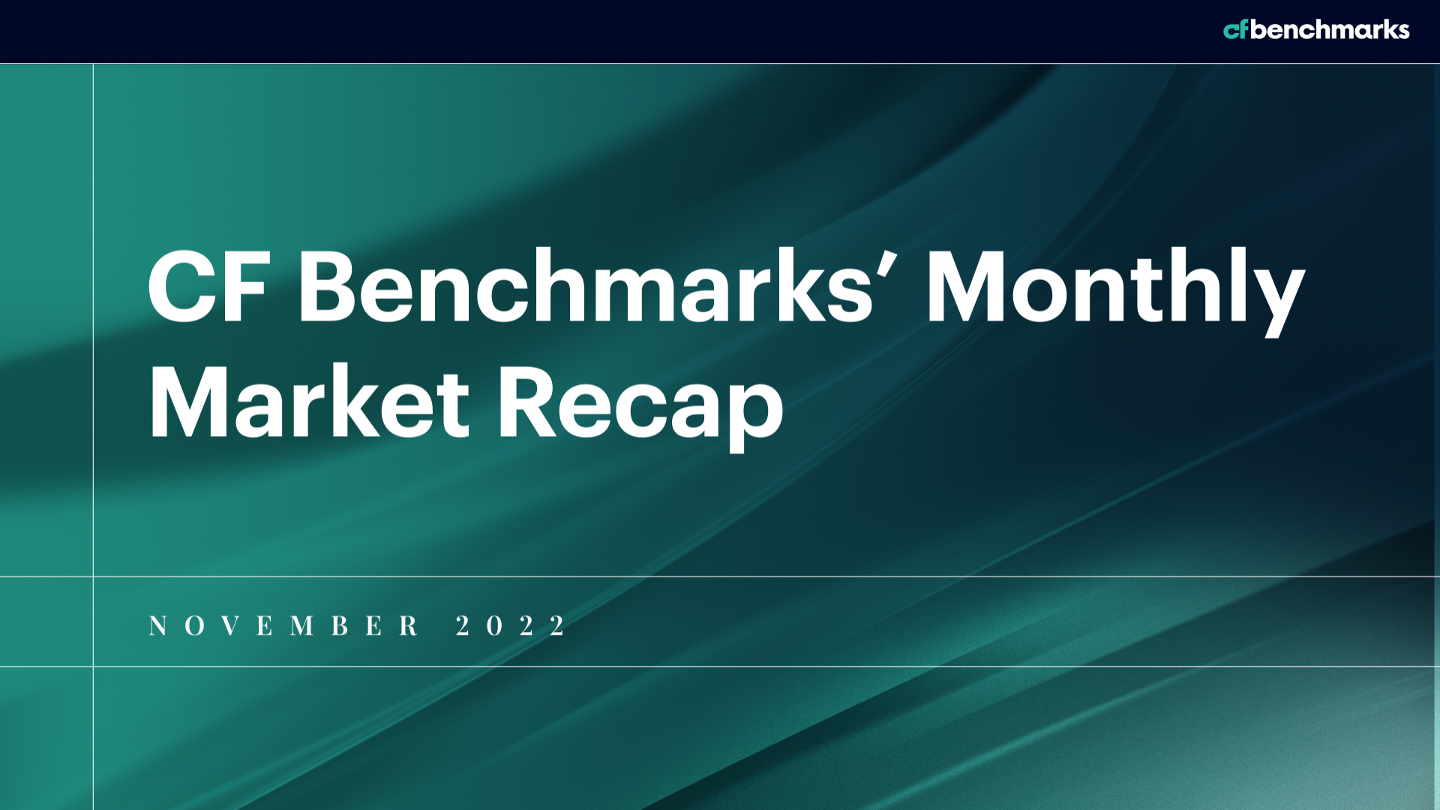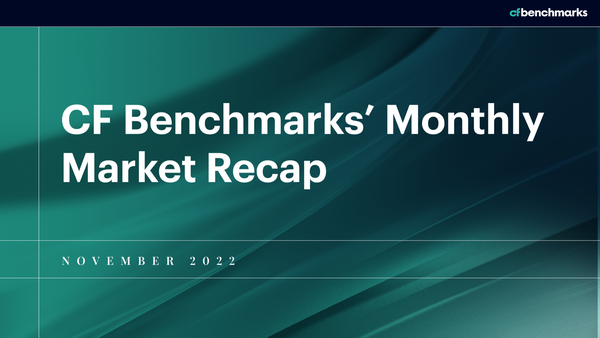 Here's the November edition of a monthly compilation of digital asset market data, analysis and insights by CF Benchmarks' Lead Research Analyst Gabe Selby.
This report has been designed to help you see at a glance which blockchain economic categories have been driving recent crypto market performance, get a sense of where institutional investors are allocating capital earmarked for digital assets, and understand how crypto fits into, impacts and is influenced by the broader market picture.
Contagion sparks 'FUD' sell-off  
The sudden fall of one of the largest crypto exchanges sent prices plummeting in the month of November.
Bitcoin prices fell to multi-year lows, sending our CF Diversified Large Cap Index down over 22%, the worst monthly performance since July.
The CF Smart Contract Platforms index finished the month as the worst performer, down 34%. Meanwhile, the CF Blockchain Infrastructure index was a relative out-performer but still finished the month sharply lower, falling 21%.
Monthly Index Performance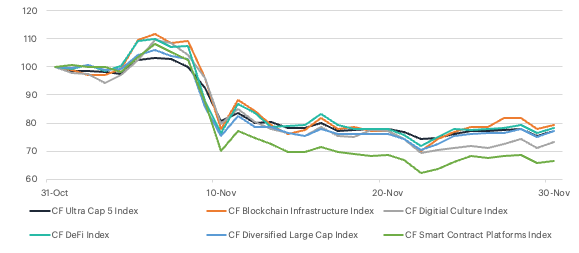 Major Crypto-Pairs (USD)

Litecoin prices rallied almost 45% for the month after the organization announced its plans for its third halving in mid 2023.
Most major tokens finished in negative territory, with Solana falling almost 60% due to its exposure to FTX / Alameda.
Currency of Flows

Fund flows by asset remained broadly negative, falling -$21m with most of the decrease concentrated in BTC and ETH funds.
From a regional perspective, most fund inflows were in Europe, while North America saw the most outflow (-$34.4m).
Futures Positioning and Open Interest

Bitcoin futures positioning continued to climb closer to net neutral in November (rising to -303 from -468).
Open interest for Bitcoin and Ethereum futures has also trended higher despite the recent market sell-off.  
On-chain updates: Total Value Locked (TVL) in DeFi protocols

Following the FTX collapse, TVL in DeFi briefly fell below the $60b mark. However, this metric has since stabilized just above this threshold.  
NFT Transactions and Volumes

NFT transactions continued their downward trajectory, falling approximately 22%. Conversely, positive price momentum helped bolster NFT volumes by 24% in November.  
Download The CF Benchmarks Monthly Market Recap here (PDF file)
The information contained within is for educational and informational purposes ONLY. It is not intended nor should it be considered an invitation or inducement to buy or sell any of the underlying instruments cited including but not limited to cryptoassets, financial instruments or any instruments that reference any index provided by CF Benchmarks Ltd. This communication is not intended to persuade or incite you to buy or sell security or securities noted within. Any commentary provided is the opinion of the author and should not be considered a personalised recommendation. Please contact your financial adviser or professional before making an investment decision.