A Compliant Bridge to the Web3 Future: CF Benchmarks Q&A with DIA
With the bridging of DIA's Web3 tech infrastructure and CF Benchmarks' deep experience in regulated price feeds, developers gain the advantage of a more secure, compliant and resilient price feed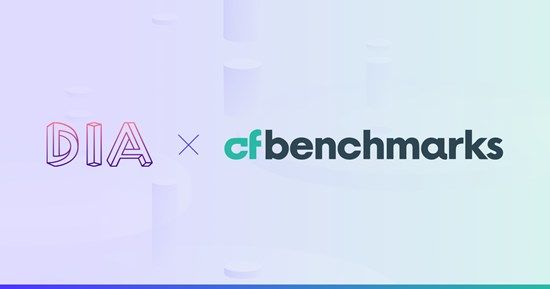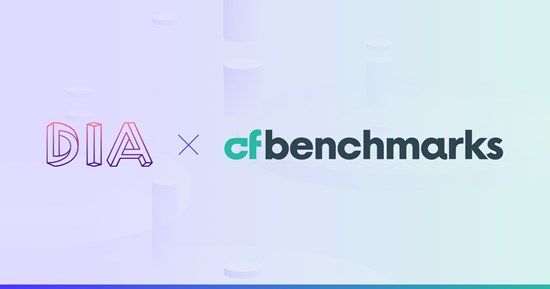 What does the future hold for open-source Benchmark Regulation-compliant crypto price data, now that CF Benchmarks has joined forces with DIA?
DIA Association CEO Michael Weber explains - in conversation with CF Benchmarks
---

Crypto-native edge
CF Benchmarks is continually looking for ways to improve the availability of robust, reliable cryptocurrency pricing data, for users of digital asset ecosystems, as well as institutional and individual investors.
We seek to achieve that goal in a variety of ways, but we are particularly excited when we can do so in a crypto-native format, as that increases the likelihood of symbiotic benefits to the ecosystem and end users down the line.
This is why our new partnership with DIA is so promising. Read on to learn more about DIA, and the kind of innovations that the DIA-CFB partnership can bring.
About DIA
DIA (Decentralised Information Asset) is a cross-chain, end-to-end, open-source data and oracle platform for Web3
The DIA platform enables sourcing, validation and sharing of transparent and verified data feeds for traditional and digital financial applications
With institutional-grade data feeds, DIA-sourced data cover asset prices, metaverse data, lending rates and more
DIA oracle data originate from a broad array of on-chain and off-chain sources and are fully customisable in terms of utilisation with other sources and desired methodologies
The interoperability range of DIA's oracles is vast, encompassing layer 1 and layer 2 networks including Ethereum, Solana, Polkadot, Binance Smart Chain, Polygon, xDaiChain, Avalanche, and many more
When 'open-source' meets 'regulation-compliant'
Beginning with CF Benchmarks administered ETH and SOL reference rates—which have been 'plugged into' DIA oracle platform as of now—the plan is to port more of our Benchmark Regulation-compliant reference rates into DIA's open-source blockchain software development environment.
This is highly likely to enable secure development of new financial products and services—made for institutional participants—underpinned by resilient and robust methodologies in Web3.
As such, it's clear that the CF Benchmarks-DIA partnership is a highly consequential one, though it makes sense to expect its importance to become clearer over time.
Consulting the oracle: Q&A with DIA CEO Michael Weber
Meanwhile, it's helpful to quantify the initial scope and opportunity of the partnership as much as possible.
To that end, DIA CEO and co-founder Michael Weber (MW) kindly agreed to participate in a Q&A with CF Benchmarks' Head of Content Ken Odeluga (KO), to discuss key aspects of the new collaboration.
Highlights from their stimulating and wide-ranging conversation are summarised below. (Occasional emphasis, in bold, was added by me):
KO The combination of the DIA's interoperable, open-source data architecture and CF Benchmarks' reliable, secure and regulated price feeds holds a lot of promise, particularly in terms of innovative financial products for Web3.
Please outline some of the most attractive use cases, or end-user applications possible from the collaboration.
MW: As we see the space maturing and progressing at staggering speeds, we also see increased interest in blockchain-native financial products.
As DIA, being a blockchain-native digital asset data provider, we are very sensitive to the fact that trusted, openly available price feeds are not homogenous and can be created using a number of methodologies, each of which may cater to different needs.
CF Benchmarks' index feeds are among the most widely used and tested feeds that meet a high standard of quality and institutional requirements.
Providing access to CF Benchmarks' price feeds will enable issuers in the decentralised financial realm to build products that meet high requirements, both with regards to potential investors, as well as regulatory bodies.
This will facilitate the entry of regulated financial service providers, enabling them to offer their products using Web3 technology, and to address new target groups.
KO: What are the unique advantages of building applications comprising CF Benchmarks price data within the DIA platform, as opposed to alternative solutions for integrating CF Benchmarks prices?
MW: DIA's core mission is to enable transparent, reliable and permissionless access to validated financial information. One of the premises that the DIA mission runs on is that the platform is not the central decision maker of what prices and methodologies should look like - instead, maximum transparency and availability are the key priorities.
This translates into two very specific advantages: Breadth of data and cross-chain availability.
At DIA we aim to provide the broadest set of data available among any oracle platform out there. To ensure maximum transparency, DIA sources data at individual trade level from a variety of decentralised and centralised markets in addition to high quality guest oracles, like the CF Benchmarks indexes for SOL and ETH.
This enables us to provide users with any data feed that is publicly accessible, regardless of how big its trading volume, or whether it is listed on top-tier exchanges, as long as the data can be verified, and crowd-validated.
Some Web3 applications require a broad set of data that may include more long-tail, low-volume assets that are not available from other providers. This makes DIA an end-to-end one-stop-shop for more diverse data needs.
KO: The partnership will expand DIA's open-source, trusted oracle platform to include reference prices for ETH and SOL, making them available to web developers. What are some of the most tangible applications developers might like to go for first, when beginning to make use of these data?
MW: With the bridging of DIA's Web3 tech infrastructure and CF Benchmarks' deep experience in regulated price feeds, developers gain the advantage of a more secure, compliant and resilient price feed, from which applications can be created, without having to worry about building these data feeds from scratch.
There are particular benefits for trading, settlement, DEX as well as multi-token bridge applications.
For composability in Web3 applications, the new DIA-CFB bridge also facilitates faster go-to-market, lower barriers of entry and a fairer playing field in the legacy space, as well as in the Web3 financial space.
KO: The DIA platform hosts institutionally-usable reference rate feeds natively, as well as feeds like CF Benchmarks' SOL and ETH rates, enabling a true nexus of TradFi and DeFi in terms of regulated products. In your view, what might some benefits of this connection be?
MW: Fully agreed - collaborations like this one enable bridges that connect the decentralised and the traditional centralised financial markets. While there are very specific benefits for teams and companies wanting to structure and issue products, as mentioned earlier, we see massive benefits from – and even the necessity for – these bridges.
For one, tested and reliable indexes will benefit everyone in the space:
Builders can focus on developing strategies and tech that enable products, and don't have to worry about the security of the data operation that supports their products
Investors know that the data being fed into the products they allocate capital towards are tried and secure
And regulatory bodies have an easier insight into the data that is being provided if it originates from a trusted source that is already regulated
Moreover, improved bridges enabling investment into the Web3 ecosystems will increase the capital inflow, in turn drawing more attention from regulators and pressure to create the required rails and frameworks
While some actors in the digital asset sphere may be in favour of a self-regulating space, most serious projects realise that clear and sensible regulation will benefit everyone, as it will make it easier to navigate the space, and inform product decisions
A compliant bridge to the Web3 future
All told, the CF Benchmarks-DIA partnership represents a unique opportunity to build bridges between TradFi and DeFi and, eventually, between the broader domains of crypto, Web3 and established markets and assets classes.
The sheer breadth of asset feeds available on the DIA platform, their strong degree of cross-chain interoperability, plus, the customisability of the platform, strongly suggest that innovative products that utilise CF Benchmarks' Regulation-Compliant data and that evolve out of an open-source environment will be created on the DIA platform.
Find out more about DIA
Read about the DIA-CF Benchmarks partnership here
The information contained within is for educational and informational purposes ONLY. It is not intended nor should it be considered an invitation or inducement to buy or sell any of the underlying instruments cited including but not limited to cryptoassets, financial instruments or any instruments that reference any index provided by CF Benchmarks Ltd. This communication is not intended to persuade or incite you to buy or sell security or securities noted within. Any commentary provided is the opinion of the author and should not be considered a personalised recommendation. Please contact your financial adviser or professional before making an investment decision.